Luscious green curry sure to seduce your taste buds!
We had a small get-together at our place and my mom had made "Mattarchi Usal". I still relish those moments, the taste is still alive in my memories. After a long time I tried to recreate it with slightly different ingredients. It's very easy to make and doesn't require any special ingredients. I am sure you will enjoy it as much I did.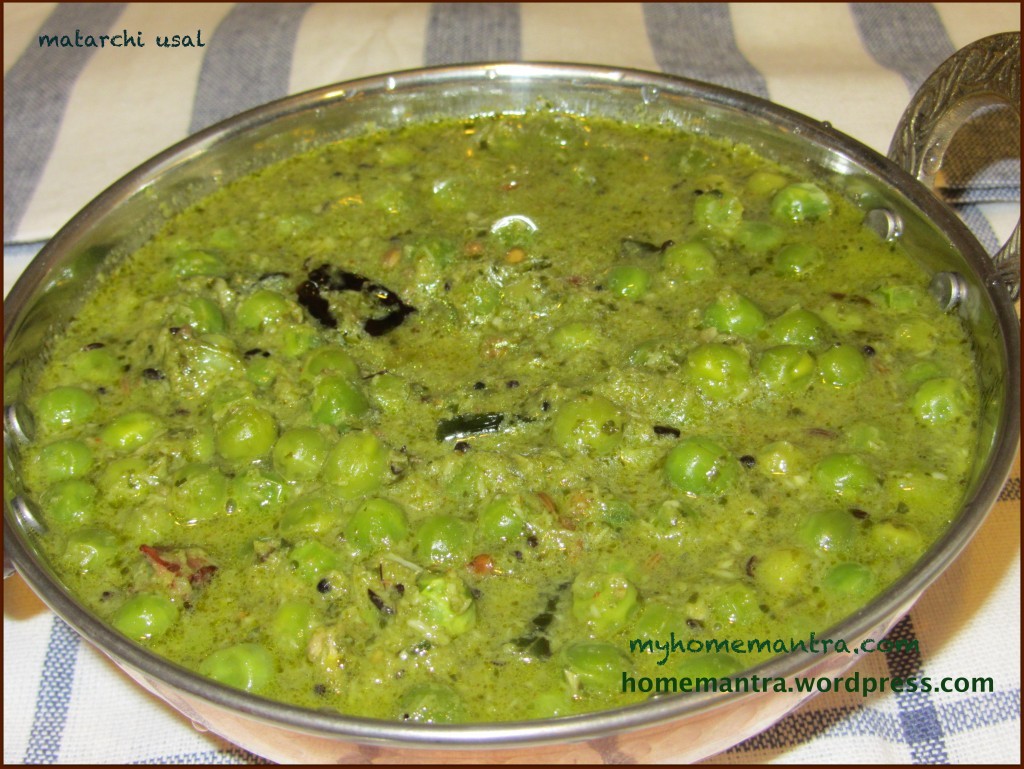 Matarchi Usal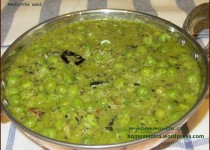 Yet another traditional Maharashtrian recipe!
Prep Time: 10 minutes
Cook time: 20 minutes
Yield:

4
Ingredients:
Instructions:
Make a fine paste with coconut, cilantro, 1/4 tsp cumin seeds, ginger and garlic. Add some water if required.
In a cooking pot, heat oil.
Add mustard seeds, cumin seeds and hing.
Add turmeric powder if you like. Add curry leaves and red chillies cut into halves. Fry for another minute.
Now add the green paste and let it cook until the paste starts leaving oil.
Add salt as per taste.
Add green peas and enough water to maintain the desired consistency for the curry.
I like to add 1 or 2 star anise while the curry is boiling, but make sure you take them out once done.
Let the peas cook for 10-15 minutes. Stir in lemon juice and sugar.
Serve with hot bread slices or rotis.
Side Note
Traditionally the green paste is made using heavy stone grinder and it's called "Watan वाटण" in Marathi. Needless to mention, it tastes wonderful and also makes the dish very aromatic.
http://www.fotopedia.com/items/everlasting-rXz8uvQVpnU
Sending this to 'Flavors of Maharashtra' event hosted by SeduceYourTasteBuds and Simply.Food