Eggplants in Creamy Sauce loaded with Healthy Fats!
I have adapted my mom's recipe of "bharli vangi" (भरली वांगी) to make it super simple and extremely delicious. The one thing I like about eggplant is it's readily available in all grocery stores and this curry does not need any special ingredients. It's super easy and super delicious.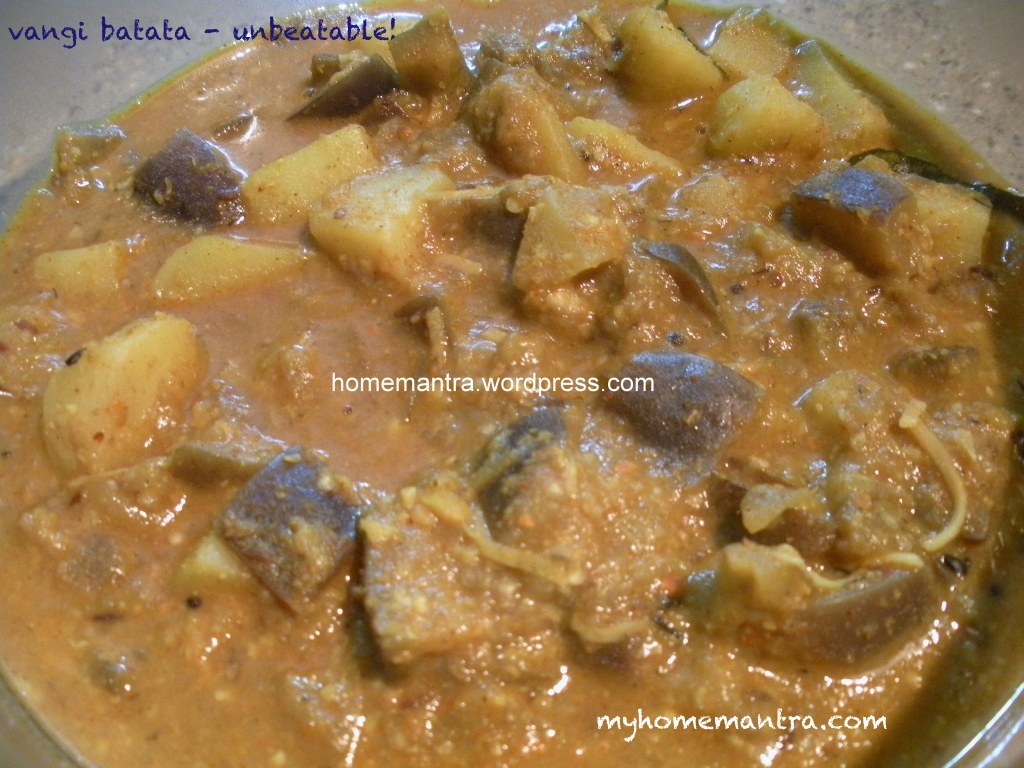 Ingredients
5-6 medium sized eggplants
2-3 small potatoes (optional)
For masala -
1 tb spoon cumin-coriander powder
2.5 tb spoon peanut powder (दाण्याचे कूट)
1 tsp kala masala (गोडा मसाला)
1 tb spoon shredded coconut
1/2 tsp red chili powder
1/2 tsp sesame seeds (roughly powdered)
1 tsp tamarind paste (or tamarind chutney) or 3-4 Aamsul pieces
1/2 tsp jaggery
for tadka (फोडणी)
1/2 tb spoon oil (just enough for tadka)
1/4 tsp mustard seeds,
1/4 tsp cumin seeds
1/4 tsp hing powder
1/2 tsp turmeric powder
salt to taste
Method:
The original recipe does not contain any potatoes so feel free to omit them. I sometimes add potatoes to increase the quantity.
Potatoes take more time for cooking, so start with them first. Wash potatoes and dice them in cube sized pieces.
In a medium sized pan, heat some oil and prepare tadka with mustard seeds, cumin seeds, hing and turmeric. Add potato cubes and mix well. Let them cook for 3-4 minutes.
Meanwhile, you can cut washed eggplants into cubes. Keep them immersed in water with a pinch of salt. That avoids the discoloration. Transfer these eggplant pieces to the pan and also add few spoons of water.  Add tamarind paste or aamsul and let them cook for a minute or so.
Now we add the masala – Peanut powder, roughly grounded sesame seeds, red chili powder and kala masala.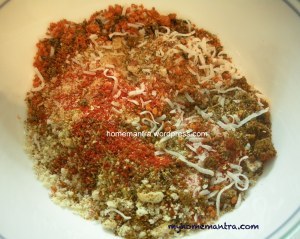 Also some salt to taste. Add fresh coconut. (Dry coconut works too.) Add some more water to maintain the consistency. Let it boil for few minutes until all veggies are cooked nicely.
Once done, turn off the heat. Add jaggery and mix well. It's ready!
Extra Credit –
I like to use तिळाची चटणी (dry sesame seed chutney), कारळ्याची चटणी and also जवसाची चटणी (flax seed powder) These seeds together with coconut provide a lot of healthy fats and also make super creamy sauce. As you can see, it requires very little oil to make this dish 🙂