Rich, Cakey, Chocolatey Goodness !!
I bet you are smiling already. 🙂
This is one thing I have found hard to resist. Even though they are easy to make at home, next time I would rather but them by the piece just to keep my weight loss goal on track. I found couple of recipes with slight variations in amount of chocolate, cocoa powder and eggs used. The one I used came from my colleague's mom. She has been baking these brownies for last 50 years, how wonderful is that! I think i did a good justice to her recipe and made them more special by baking them on Valentine's day.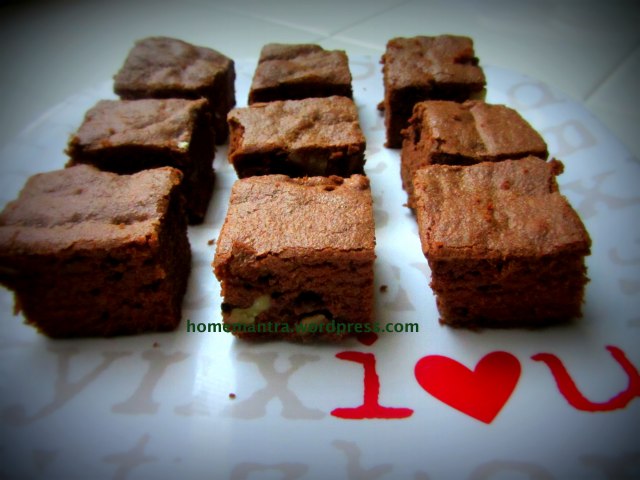 Rich, Cakey, Chocolatey Goodness!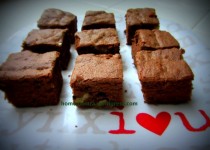 Prep Time: 20 minutes
Cook time: 30 minutes
Yield:

16 pieces
Ingredients:
Instructions:
Preheat the oven to 350F /180 C. Line the baking tray with parchment paper.
In a medium bowl, melt the chocolate and the butter over simmering water. Set it aside.
Remove from the heat and stir in cocoa powder and sugar.
Next whisk in vanilla extract and eggs, one at a time; beating well after each egg addition. Finally fold in the flour and salt, making sure you don't over mix the batter. Add in chocolate chips and walnuts. You will notice that the metled chocolate becomes hard to work with once eggs and flour are added, but that's okay.
Transfer this mixture to the baking pan and bake for 20-25 minutes. Pull out and let them cool for at least 40 minuts on a wire rack to get well defined pieces. Well, I dugged in immediately, nothing tastes better than warm chocolate brownie on a perfect rainy evening!
The Secret –
The time you take out the brownies out of the oven is very crucial. A few minutes could turn rich moist brownies into hard ones. Test with a toothpick or a skewer inserted into the middle, it should come out sticky with a little batter and a moist clumps clinging to it. If it comes out clean, you have overbaked them.
Sending this to Rasi's I am the Star
Off to Radhika's I love Baking

Bake Fest hosted by Sumee and started by Vardhini

Srivalli's Kids Delight hosted at UK-rasoi