Simplicity at its best!
Last two month I had relinquished the control of my kitchen to my dear hubby. I was preparing for interviews and was going through a lot of stress. Work pressure, interview tension, the-waiting-for-the-result patches, some surprises and some shocks …Even though I was not cooking, my kitchen was still buzzing with the action and S did a fantastic job.
We celebrated my offer with a fancy chocolate mousse at one of my favorite bakeries in Saratoga. The mousse was velvety, buttery and chocolaty but it was missing something, I was missing the love! I asked myself what my aajji would have made on such an occasion. Rava cake! Yes, a cake made Rava and no Maida.  She always made this cake after my exams. The thought of Rava cake itself was enough to bring a smile on my face. The recipe was one phone call away. I am so glad that my mom and mavshi have still kept this recipe fresh in their minds,  But I do see an urge to have it documented here.  This is a very special recipe and very close to my heart.
Apparently, the cake was very popular in the 70s and 80s and this was made in a stove-top container with dry sand which creates dry heat, the same technique offered by conventional ovens.
The cake contains Rava (semolina) and yogurt in equal proportions, mixed with sugar and some ghee and a pinch of cardamom. That's it. Simple ingredients; very unusual for a typical cake but it tastes divine.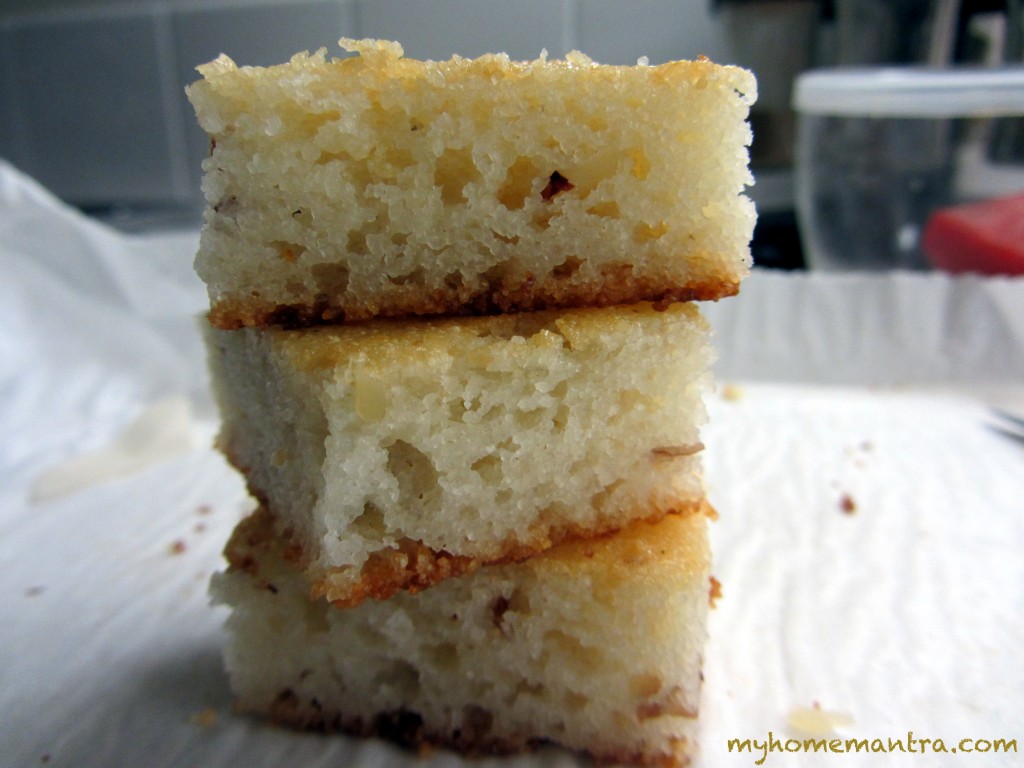 1 cup unroasted medium coarse

rava


1 cup yogurt (regular / low fat/ whole fat – anything works)




2/3 cup sugar + 1-2 tbsp sugar depending on your taste




3 tbsp ghee (or softened butter)




1/4 teaspoon baking soda




2/3 cardamom pods powdered fine




a pinch of saffron

1/2 teaspoon vanilla extract (optional)




1/4 cup sliced almonds (optional)
Method:
In a medium bowl, whisk together 

rava

, yogurt, and sugar. Add softened ghee and mix everything until batter is formed.




Let it rest for 30 minutes to an hour.

Pre-heat oven to 350 degrees / 180 degree Celsius.

Add baking soda, cardamom powder and other optional ingredients – vanilla extract and sliced almonds. Mix well.

Line your cake pan with parchment paper and gently grease it with a few drop of ghee. Pour the batter evenly into it. Tap the baking pan a few times on the counter, this will help spread the batter  Sprinkle some saffron strands on top.

Bake for about 25-27 minutes. It will be soggy while it's hot. Let it cool completely before you cut it into pieces.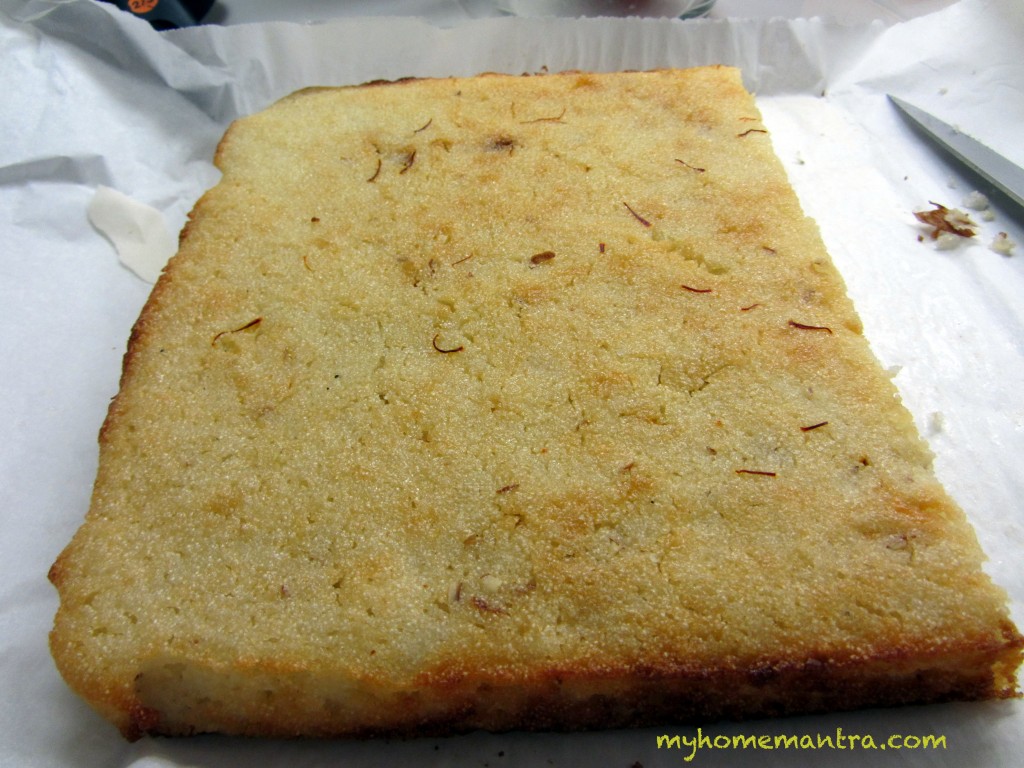 My aajji used to add charoli and kharik (dry dates) powder to reduce sugar and make it healthier. I hope you will enjoy it!
Sending it to Vardhini's Bake Fest hosted by Foodomania 
Sending this to Nupur And to Gayathri's WTML event hosted at one of my favorite blogs – Preeti's Kitchen Life. And I am so happy to announce that this recipe has won the first giveaway for me!