Even though I think about calories, fat, saturated fat and of course, the price I end up buying banana walnut bread at Starbucks. The cakey delight is so hard to resist. Today I decided to try it myself at home using whole wheat flour instead of maida (all purpose flour) to make it a little healthier. My husband could not tell the difference 🙂
Banana Walnut Bread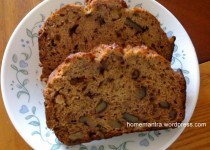 Easy to make banana walnut bread made with whole wheat flour, sure to satisfy your sweet tooth!
Prep Time: 10 minutes
Cook time: 50 minutes
Ingredients:
Instructions:
Sift together the flour, baking soda, sugar and salt into a large bowl. In another bowl, whisk butter with one large well beaten egg and vanilla essence. Add this mixture to dry ingredients. Add mashed bananas and mix it well to form batter. Add chopped walnuts and mix again.
Preheat oven to 375 degrees Fahrenheit. Grease a loaf pan with cooking spay. You can also use parchment paper. Pour the batter into this loaf pan and bake for about 45-50 minutes at 375 F.
Let it cool for 10 minutes before slicing.
Food For Thought
Walnuts are often referred to as "brain food", not only because of brain-like appearance of their lobes but because of their high concentration of Omega-3 fatty acids. They also promote bone health and play an important role in improving cardiovascular health. Banana is a good source of potassium and dietary fiber; provides cardiovascular protection and promotes kidney health.
So don't feel guilty while enjoying this homemade dessert 🙂
Sending this for Bread Baking Day being hosted at Paulchen's Food Blog with the theme of "Bread With Egg".
Sending it to Vardhini's Bake Fest hosted by Foodomania
And to Breakfast Club – More than Tea & Toast hosted by Utterly Scrummy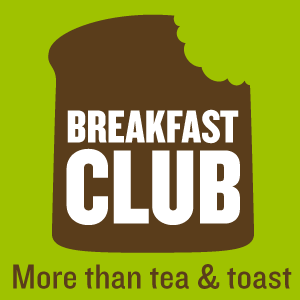 .
Off to Radhika's I love Baking