Last time when I travelled to India, Cathay Pacific served bhindi masala for lunch. In my humble opinion, if people don't know how to make bhindi that should just refrain from it. As soon as I reached home, the first thing I asked my mom to make was "भरली भेंडी / bharali bhendi".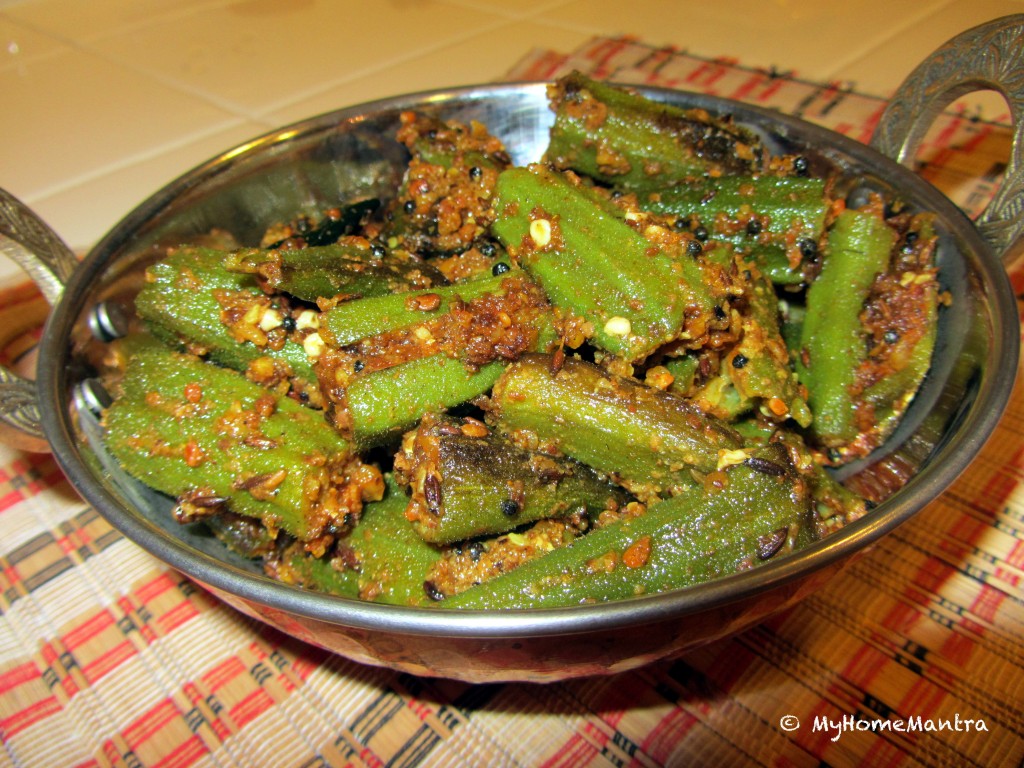 It's called "bharali" because it's stuffed with masala. Disclaimer – This recipe is not same as Punjabi Bhendi Masala. This is truly a Maharashtrian version and if you ask me it's the best version 🙂
Bharali Bhendi / Bhindi Masala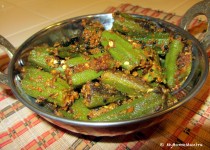 Little heavy on oil but totally worth it!
Ingredients:
Instructions:
Wash bhendi and let it dry completely. 
Make slits so that you can stuff the masala inside. Cut it into halves lengthwise so that it's easy to eat.

In a small bowl, prepare the masala by mixing everything together except for salt.

In a medium pan, take oil and make tadka by adding mustanrd seeds, cumin seeds, hing, curry leaves and turmeric powder in that order.

Now stir in stuffed bhendi and let those cook properly.

Sprinkle salt and mix it lightly. Make sure the masala doesn't come out.

Keep it covered for 3-4 minutes. 

Once bhendi becomes soft and masala is cooked, it's ready to serve hot with rotis.
This dish demands a bit more oil than usual cooking but it's totally worth it. Also try to use a non stick pan in order to avoid sticking-at-the-bottom problem.
It is a good source of Protein, Riboflavin, Niacin, Phosphorus, Potassium, Zinc and Copper, and a very good source of Dietary Fiber, Vitamin A, Vitamin C, Vitamin K, Thiamin, Vitamin B6, Folate, Calcium, Magnesium and Manganese. Read More http://nutritiondata.self.com/facts/vegetables-and-vegetable-products/2498/2#ixzz2CRq5FNaA