When I saw a small red pumpkin in farmer's market, it reminded me of my childhood. My gradma (aajji) used to make gharage (घारगे) and dhapate (धपाटे). I used to love eating gharage after coming home from school. 'Gharga' is a sweet pumpkin puri and of couse a deep fried puri. Dhapata on the other hand, is a savory version and it's not deep fried, so it's more like a paratha or thepla.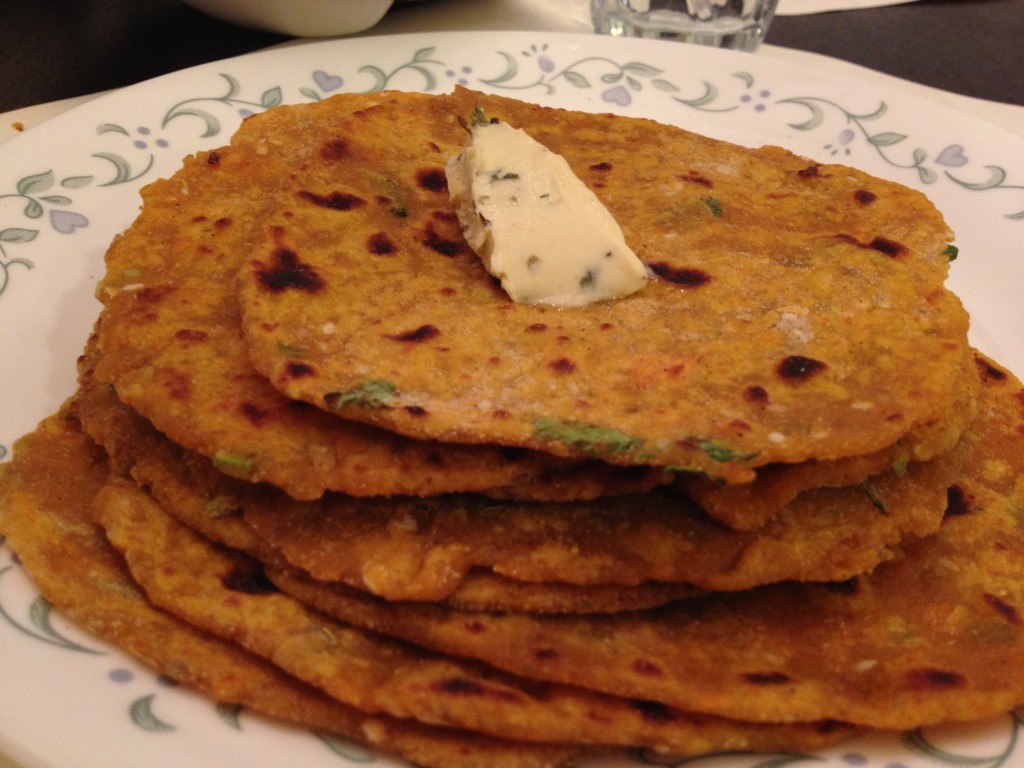 It must be healthy as there is nothing unhealthy – either ingredients or the process. Give it a shot.
Red Pumpkin Paratha / Thepla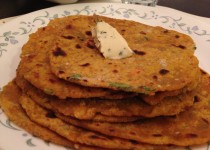 Easy to make, no special ingredients and no much preparation.
Prep Time: 10 minutes
Cook time: 15 minutes
Yield:

10-12
Ingredients:
Instructions:
Cut pumpin into big pieces, wash it nicely and also remove the center part that might contain seeds,

Steam these big pieces for 5-8 minutes, until the pumpkin becomes tender.
Meanwhile, cut green chilis and garlic into fine pieces. Grate some ginger.
Once steamed, let it cool. Rinse it with cold water to quicken the process.
Smash it with hands and make sure there are no lumps.
Add finely chopped chilis, garlic, ginger, salt, sugar, turmeric and all the seeds.
You can also cilantro but it's optional.
Add whole wheat flour and besan gradually and prepare dough. Pumpkin should have enough water so add water only if needed. 
If the dough feels very sticky, add more wheat flour but also adjust the amount of salt.
Use some oil, to knead the dough.
Now make small balls and roll it into small parathas, use wheat flour for dusting. 
Roast them lightly on a tawa using ghee. 
Ready to serve!