5 different tastes in one bite! It's a culinary master piece!
I have always told people who asked me about my favorite vegetables that I love Karlyachi Bhaji and especially the way my mom makes it. The surprise on their face made me feel proud for earning brownie points for being a good kid who eats all vegetables, including bitter gourd.
Any preparation of bitter gourd will have a pronounced bitter taste and it should, it's not easy to mask bitter taste but it plays well with well chosen ingredients. This particular preparation which uses tangy tamarind, nutty peanuts, creamy coconut, sweet jaggery and spicy Goda Masala is a classical example of Marathi cuisine from Konkan region.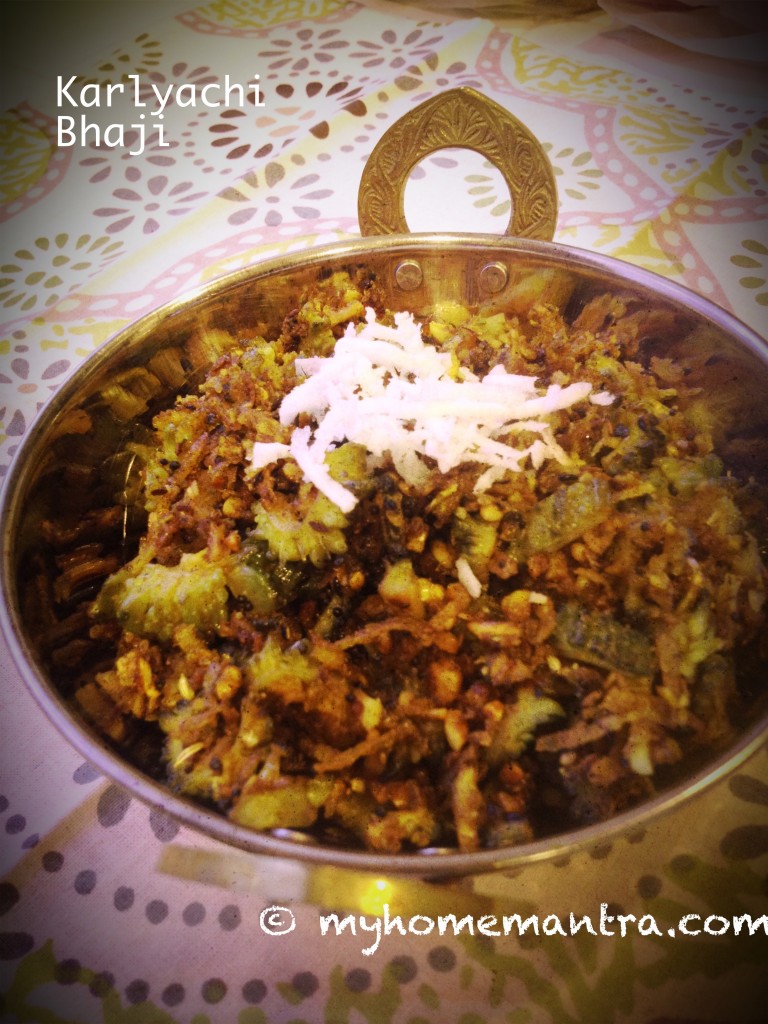 I was very happy with my attempt to mimic  mom's magical taste. The best reward was that my husband really enjoyed it, which was quite a shock for me!
Karlyachi Bhaji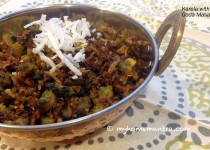 5 tastes in one byte! It's a culinary master piece!
Ingredients:
Instructions:
If you are using ready made tamarind paste, skip this step. Else, in a small bowl add 1 spoonful of tamarind and some water, microwave it for 10 seconds and let it sit aside.
Wash bitter melons and cut them length wise, if you see any bigger seeds remove them with a spoon or inner side of a peeler. Now chop them into smaller equal sized pieces.
Add these chopped pieces to a bowl with some water and add 1 tbsp of salt, mix it well. The salt makes the bitter gourd release some juice and it takes away some bitterness. This step is optional but highly recommended.
Now in a kadhai / heavy bottomed pan, heat some oil.  I use peanut oil and it works really well for this dish.
Prepare phodani or tadka, by adding mustard seeds, cumin seeds, coriander seeds, hing and turmeric powder.
Now add bitter melon pieces by removing all the water. If you like squeeze out the water as much as you can.
Stir fry it for 2-3 minutes.
Now add ground peanuts, grated coconut, tamarind paste and mix it well.
Add red chili powder, cumin-coriander powder, Goda masala and finally some salt. Mix everything together and let it cook for another 2-3 minutes.
Add jaggery, cook it further for 2 minutes.
Adjust the amount of jaggery / salt as per your taste.
Enjoy it hot with poli or fulka! Bon apetite!