मुळा / Muli or White Radish and शेपू / Savaa or Dill, the two vegetables I hated from my core white I was little. I gave my mom hard time since she either had to convince me for eating it or make something else . Convincing me was a harder task than preparing something else. She tried many ways to hide these vegetables in other dishes. the characteristic smell the two vegetables have turned out to be my biggest advantage.
It was quite rare to have my mom open the door for me as I return from school since her office timings never coincided with my school hours. It was one of those lucky days during Ganapati Festival. The rains were unstoppable and my mom decided to come home early. When I saw her at the door, I could not stop smiling. She then served me a 'garama-garam' (hot from the pan) paratha with mango pickle which is her ultimate speciality I have yet to conquer and some yogurt. It was so yummy and so satisfying. You can imagine, the slight coldness in the air with continuous pouring rains, the background Ganapati music which does not stop until power is completely disrupted (including generators)  and these soft, hot yummy parathas. I gave my mom a tight hug and said thank you for such delicious "aloo parathas". Her smile only became bigger at that point. She replied, "Sure only if aloo was a new name for muli in my dictionary" Duh! Well since then muli paratha has been a permanent entry in our house menu and my favorite dishes.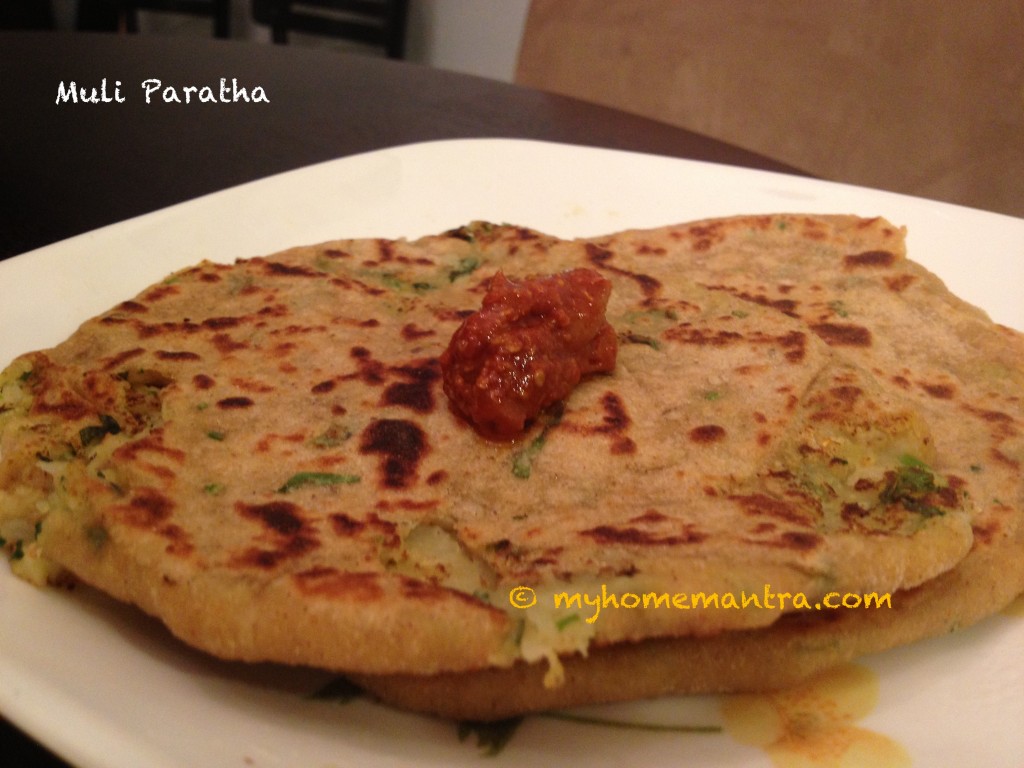 Muli Paratha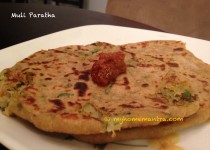 Healthy and hearty Indian flat bread with white radish stuffing!
Prep Time: 15 minutes
Cook time: 20 minutes
Yield:

4-5
Ingredients:
Instructions:
Method:
Prepare chapati dough by adding chapato flour, salt, red chili powder, turmeric, oil and warm water. 

Add a tsp of hot oil and knead well.
To prepare stuffing, in a medium bowl add grated white radish and boiled and smashed potatoes.
Now add other spices and finely chopped coriander and mix well.
The actual paratha is similar to any other parathas. For detailed instructions follow this procedure.
Serve it hot with pickle and raita.
Tips:
White Radish sometimes has very strong smell. You can squeeze out the water from grated radish by adding some salt to it. By adding fennel seeds and ajwain seeds  help to reduce the strong smell.  Be careful with the salt if you add it to the grated radish, the stuffing and the dough.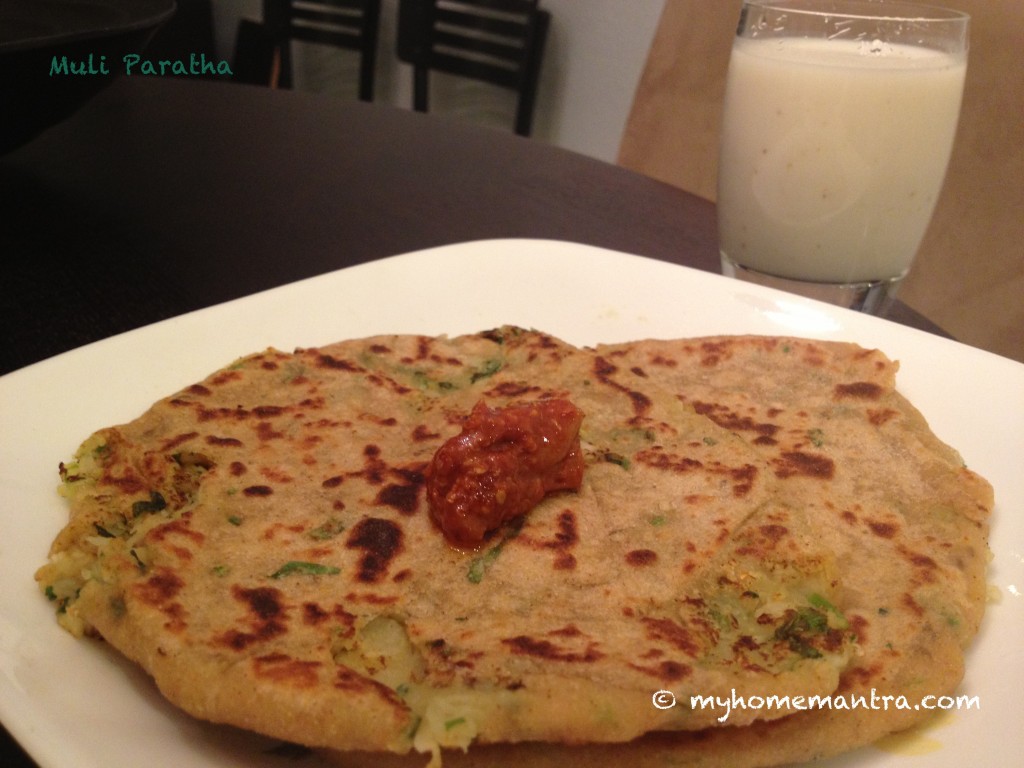 And now the Event Announcement! Last year I came across this wonderful event called WTML – Walking Through Memory Lane". The event is a brainchild of Gayathri, a lovely lady and super innovative cook who writes about her culinary creations at Gayathri's Cook Spot. As the name suggests, the event is all about recreating your childhood favorite dishes prepared by your mom, gradma, aunt or anyone special in your life. This is our chance to pay a small tribute to their cooking. I was instantly drawn to this idea and I submitted my "Rava Cake" recipe to her event and luckily I was the winner for that month's giveaway. I received the wonderful book – Chocolate Cookbook by Tarla Dalal from Gayathri.
Long story short, Thanks to Gayathri, I am hosting this month's WTML event at MyHomeMantra. Here are some simple rules.
Make your favorite dish which makes you cherish your childhood moments and also tell us a small story about the dish. Not just the recipe!
No restrictions on the number of story telling entries.
Only vegetarians dishes please.
You can link your old entries if they are reposted with the below links and the logo.
Link your post to my announcement page and Gayathri's  WTML event page. That's mandatory.
Add this logo to your posts, it helps spread the word.
Non bloggers can send me your recipes at myhomemantra [at] gmail [dot] com
The event is open from April 1 to April 30th
And the Big Giveaway – Gayathri will select an entry through random selection and give away the book for the selected entry.
Note that the books Gayathri gives are not sponsored and it is her own contribution to the event. You get a whole year's subscription of Tarla Dalal's Cooking and More as the giveaway. I am not eligible for the give away.
On the first of May, Gayathri will select a lucky winner and send a mail. After receiving her mail,you can give an address to which she has to ship the book. She will ship the book within India so if you reside abroad, please give an address in India for her to ship.
Let's cherish our childhood memories with this wonderful event!