Chettinad is a region in south Tamilnadu and is well know for its unique cuisine which emphasize the use of various whole spices and fresh coconut. This month's SNC challenge was a savory curry made in chettinad style. This was my first time preparing Chettinad cuisine and since I have not tasted this particular curry, I was not entirely sure about what to expect or how it should really taste. But take my word for it. it was absolutely delicious. The addition of coconut, cashews and roasted chana dal adds a whole new dimension to our regular onion-tomato gravy and also alters its texture in a soothing way. Curry leaves and the roasted chana dal reinforce the south indian flavors while chana dal pakoda with crushed fennel seeds offer a new surprise at every bite. All in all, it's a wonderful dish, you can serve it with rice or idli or dosa.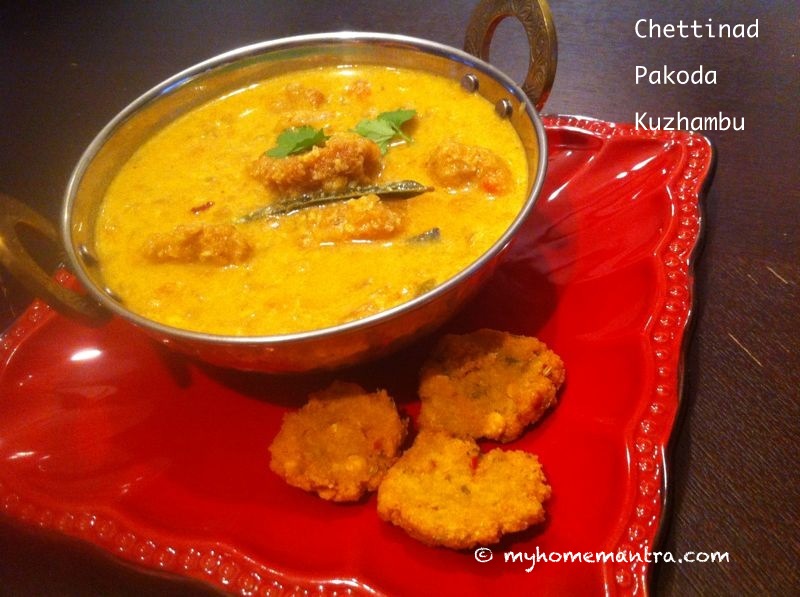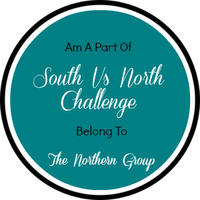 Thanks to Priya from Priya's Versatile Recipes for sharing this Chettinad speciality with us.
Chettinad Pakoda Kuzhambu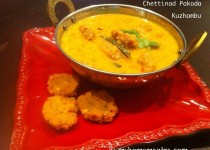 Chana dal pakodas dipped in South Indian gravy makes a perfect pairing with rice.
Ingredients:
Instructions:
For preparing Pakoda -
Soak chana dal for at least two hours. 

Grind chana dal with some fennel seeds and dry red chilis to a coarse paste. Add water only if needed.
Heat enough oil in a pan so that you can deep fry multiple pakodas at a time. Make pakodas with your fingers and drop them in hot oil on low-medium heat. Fry them until golden brown. Keep them aside.
For preparing gravy -
Grind all ingredients listed under "To Grind" above to a fine paste with some water.

In a heavy bottom pan / kadhai, heat some oil and all whole Garam masala listed under "For Seasoning" and fry for a minute or so or until you can smell it.
Add chopped onions and garlic and fry it for 2-3 minutes.
Add chopped tomato and let them cook for  sometime.
Now add the coconut paste and also add 4 cups of water. Let it simmer for 2-3 minutes.
Add red chili powder, turmeric powder, coriander powder and salt and give it a stir. Let it cook for 5 minutes with lid on.
Add pakodas and let it simmer further for 2 minutes. Add more water if needed. Pakodas will absorb the water so make sure you add enough.
Serve it hot with rice / idli or dosa.