Blue clear sky, a canvas of lush green meadow with tiny bright yellow flowers, dancing with the wind, tall pine trees all around, snow topped mountains in the backdrop and the sweet chime of rushing water! The experience which will let you experience "bliss"! All my senses were awakened. Lying under the sun at noon turned into a joyful moment – at that moment I felt the connection with the nature. Pure happiness unfolded in my heart, that happiness was beauty, the beauty of the nature.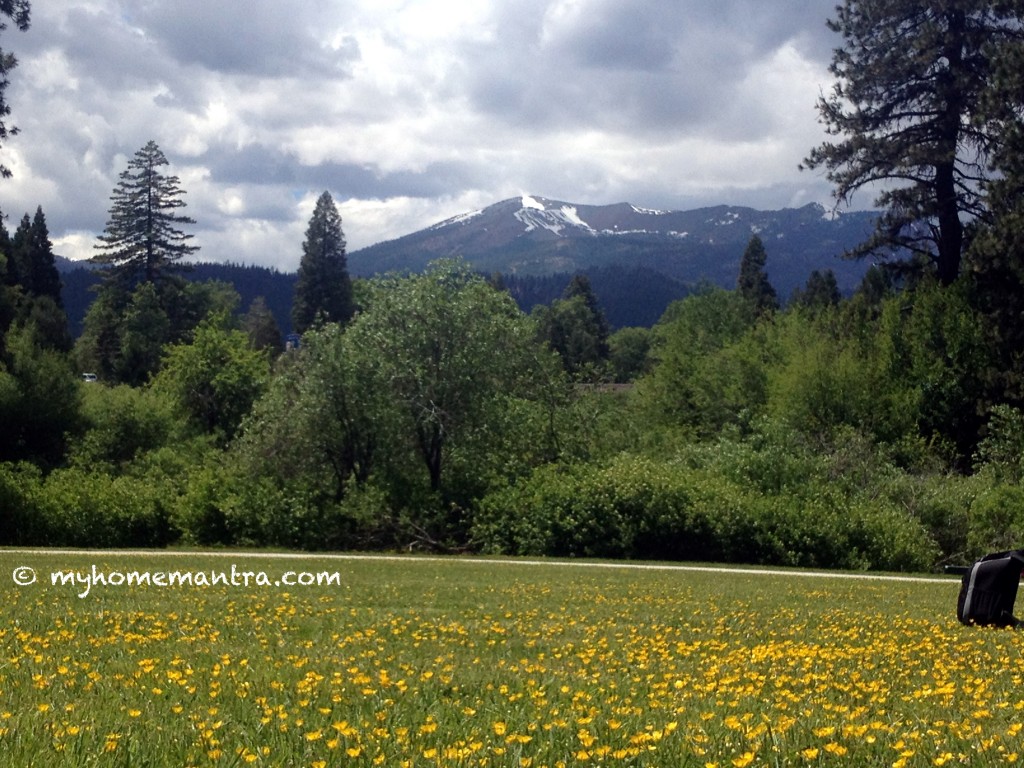 The first unplanned trip we did which surprised us at every moment. The experience was worth sharing and hence this post all about our trip to City of Mount Shasta and Crater Lake National Park.
I am the planner in my family. I feel every trip should be well planned and timed depending on what we want to do. I  always do some research about the local places and the best spots to visit and eat. That makes it a successful, hassle free trip. Well I found an exception to my rule, which means the rule is now proven 🙂
Swapnil's relatives booked a cabin near Crater Lake National Park and we decided to join them; we didn't want to miss on an opportunity to play with their three kids. We started on Friday and stopped at Redding which is about 4 hours from our place. Redding is the largest city in the Shasta Cascade region. A good place for an overnight stop, has all typical chain restaurants close to highway so finding a familiar breakfast place is easy. The newest attraction at Redding is its Sundial Bridge, which is pedestrian bridge completed in 2004 over Sacramento River. The north-south orientation of the pylon happens to act as a sundial as well, not so exciting as it is accurate only on  the summer solstice. We skipped it.
Our impromptu plan was to cover Mount Shasta vista points and head north to Crater Lake. There are many options with many scenic byways which slither through Lassen volcanic region. But constrained by limied time, we chose the fastest route – I5 North.
Just after 5-6 miles up north from Redding, there is a vista point from where you can see three Shastas – Mount Shasta, Shasta Lake and Shasta Dam. From intersection of Shasta Dam Blvd and Lake Blvd drive west, until you see a visitor center. You can see the wall of Shasta Dam and serene lake water behind it and mount Shasta in the background. They run hourly guided tours of Shasta Dam if you are interested.
We then headed back to I5 and went straight to City of Mount Shasta. On a clear day, you can see the snow capped mount Shasta as soon as you enter the city. It has a small downtown street with local coffee shops and bakeries. We drove ahead to Mount Shasta City Park. Located at the base of the mountain, this was a hidden gem. Every tourist site will mention this spot for the Sacramento River Headwaters but there is more to it.
As you enter inside, you will see a wooden structure and parking around it. Walk in the direction of the sound of water stream and you will be rewarded with the purest water on the earth. People filling up their water tanks is a common thing here. The Sacramento river, which flows 270 miles from here to the Golden Gate in San Francisco, originates in the ice-cold waters of Big Spring, issuing from a lava tube deep within Mt. Shasta. That water flows into Cold Creek here in the park, the Sacramento River's most northerly feeder stream.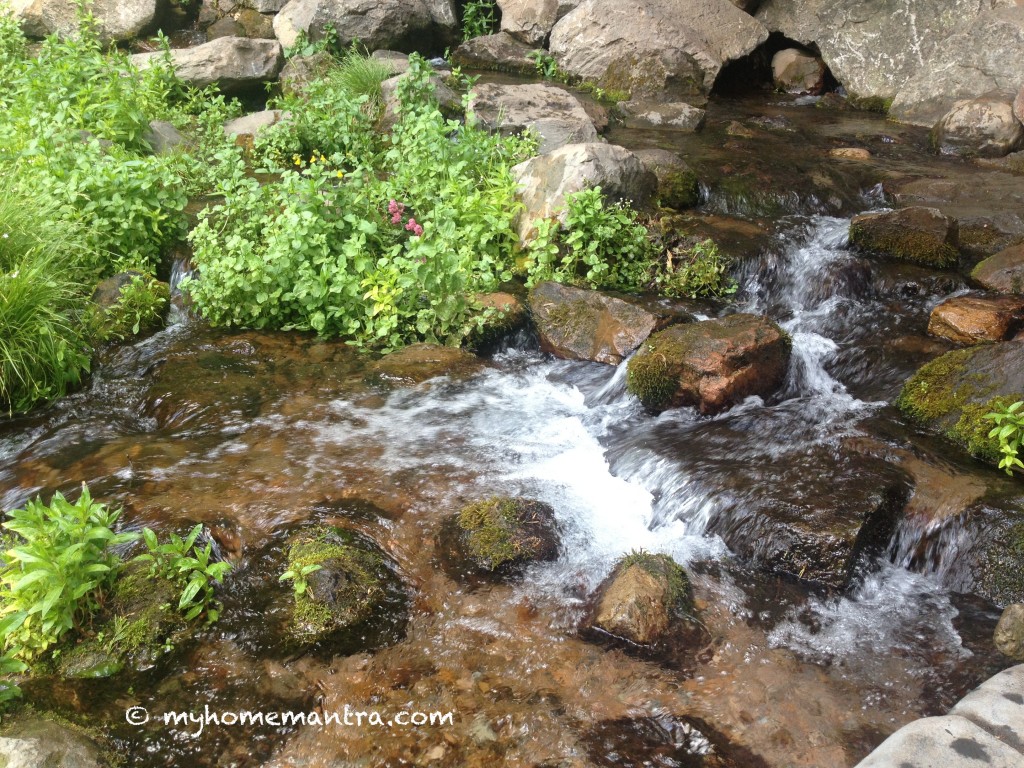 Walk down a few steps and there is a small bridge which leads to small trails. The whole site was so soothing to eyes, green trees, fresh leaves and clear water making sweet natural sound. A small bench in front was a perfect place for meditation. I just loved that spot.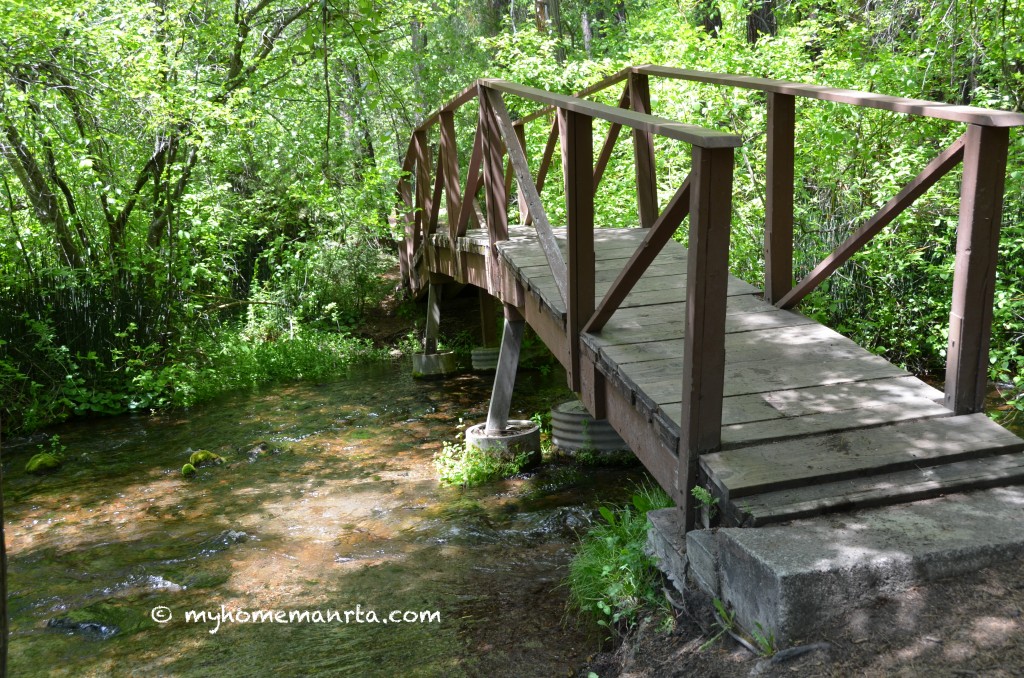 I looked behind and I was thrilled to see the green grass field with small yellow flowers. I was so tempted, I looked at Swapnil and he just nodded  By the time he said "Go ahead", I was already on the ground.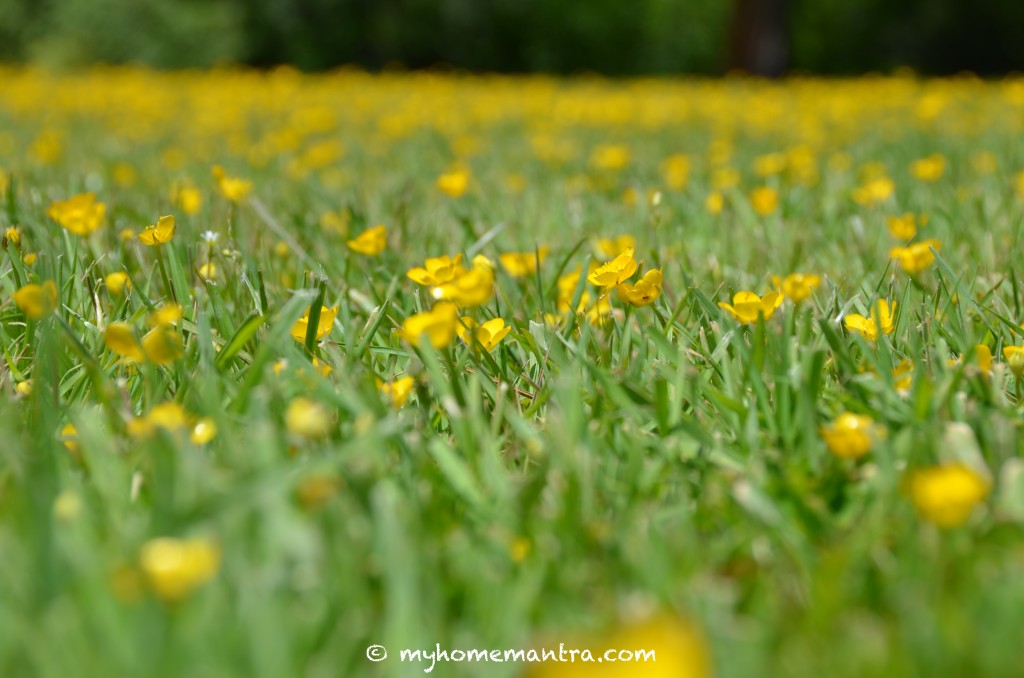 The wet grass with the flowers didn't bother me at all. I generally cannot stand the direct sun at any time of the day and here I was lying under the sun at noon. So relaxing! No wonder Mt Shasta is famous for meditation, there is something magical here. We were really happy to be there. There were some people playing drums and mouth organs and a beautiful lady doing belly dance moves matching the beats. Dancing in a park with strangers, not just strangers but hippie strangers, checked!
There are small trails which take you around the water but we did not have enough time to explore those as our under the sun relaxation lasted for a long time. We headed back to the downtown with our bottles filled with the cool water. While I was yelping for local places, "Prana Produce" caught our attention and we decided to check out that grocery store. We also wanted to buy some milk and fruits for the kids. Till now, I thought it was a popular meditation place among hippies and so we saw some at the park. But nope, I was wrong. We were the only non-hippies at the store. Their staff, their workers, their customers, all were hippies. And these are not your polished urban grown SF hippies or wannabe Austin hippies, these were real deal. No wonder organic, natural and healthy food, I mean "Prana Produce" were so easily available. Their blackboard read this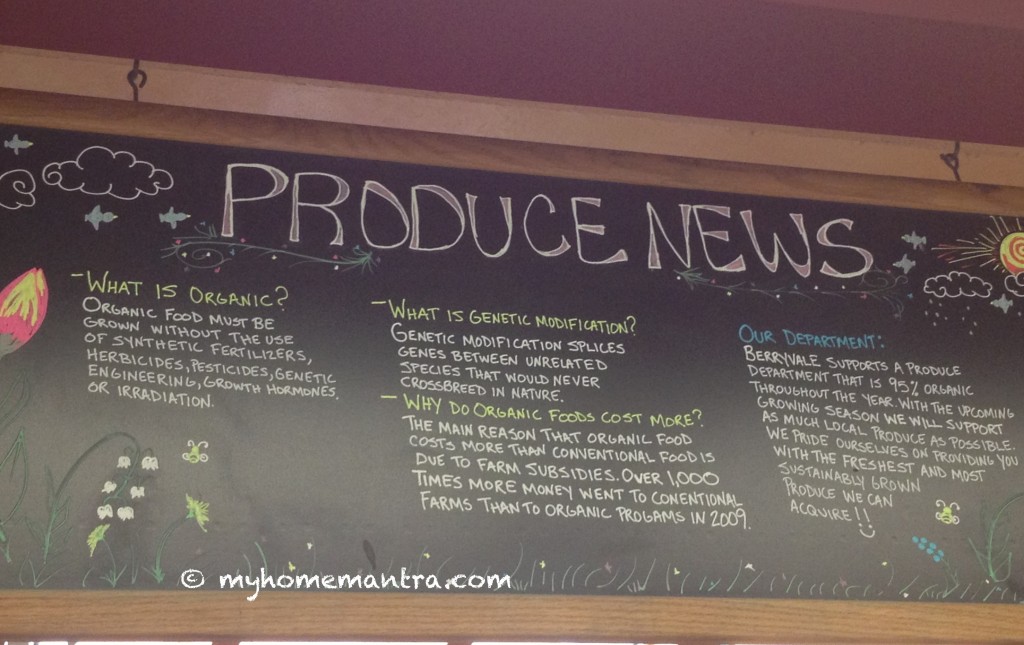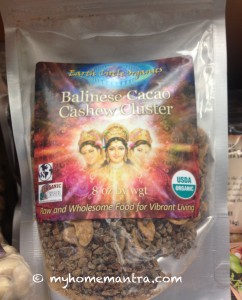 The name of the store is BerryVale Produce. It also has a small kitchen which serves fresh sandwiches, wraps, pasta and soups also smoothies and coffee. We liked their Vegetarian Sandwich with pesto sauce. The carrot juice was way better than Jamba Juice. And the soup of the day – Punjab Lentil soup hit the mark. The aisles were filled with organic super foods and the religious stuff as well. Look what we saw –
Next time, I would buy food from this place and go to the park to have a picnic. There is always something going on so entertainment is taken care of and the nature and the water will always make you happy.
We wanted to reach out resort before dark, so we didn't stop at any other spots. The drive was a real pleasure. Pine trees, green mountains and winding road with very little traffic. As we entered the Crater Lake National Park area, the road became so pristinely beautiful.  No turns, straight as a line, lined with tall Pine trees on both sides, chilly winds and no vehicles. It was picture perfect.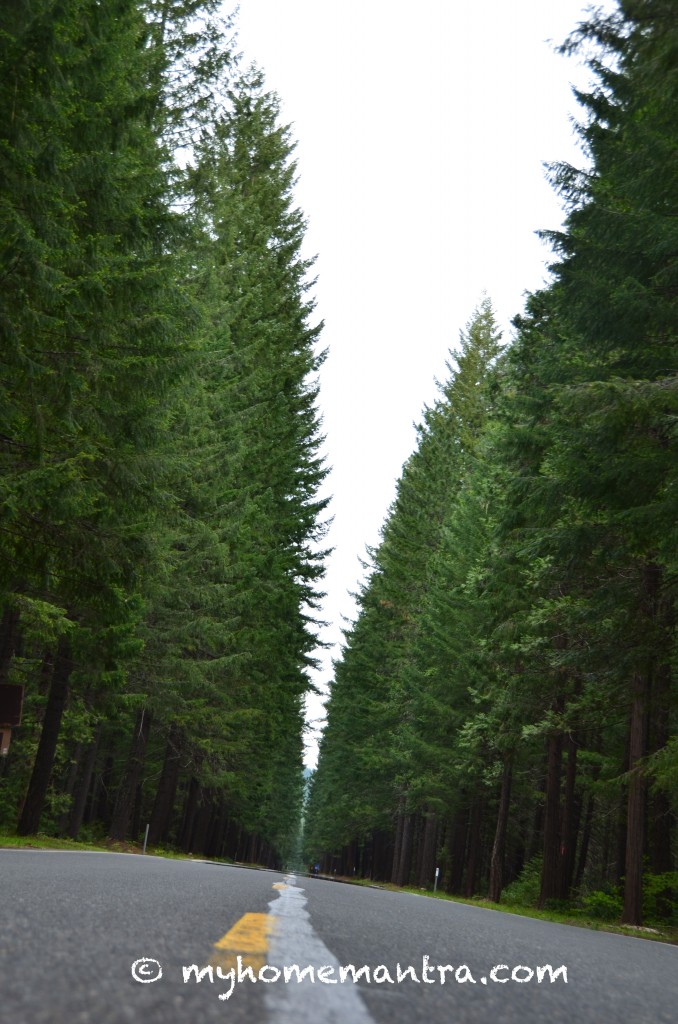 To our surprise, we saw Made in India Mahindra on the US soil!
Next day, we started for Crater lake. The drive was smooth even though it was raining and snowing. We reached the visitor center and walked up a few steps in the snow.  The lake was beautiful, the blue water surrounded by snow capped mountains called for a long photo session. Found this time lapse video that captured the lake at night.
We had a great time with the kids, playing in the snow and building a snow man.
The visitor center was quite disappointing as it didn't have any vegetarian food or it was over by the time we reached there. There is one restaurent on your way to Rim Village, called Annie's Restaurant which has descent food options. The East rim was closed due to the snow so we couldn't drive to the other side of the lake. We returned back to our resort, enjoyed homemade khichadi and talked till late hours. Next day we did stop at BerryVale Grocery place for a quick healthy lunch on our way back. It was a refreshing and rejuvenating trip.