Gujaratis are known for their variety of farsan – snacks – dhokla, khaman, shev-khamni, khandvi, gote, lochyo, kachori, mathiya, muthiya …. it's a long list. I have previously posted two recipes for muthiya – dudhi na muthiya and palak-methi na muthiya. Handvo or Handawa is yet another healthy Gujarati snack which is not deep fried. It's actually baked!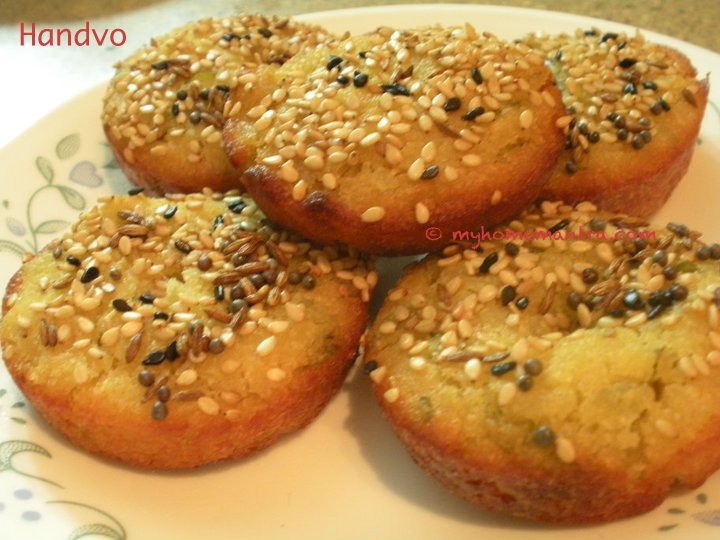 Traditionally this savory lentil cake is baked in an aluminium pot filled with sand in the bottom, which when heated, provides dry heat just like our modern ovens. I found it quite interesting. It's prepared with a mixture of different dal flours such as chana dal, toor dal and urad dal and rice flour. The veggies such as dudhi (lauki), lilwa tuwer – which is a speciality of Gujarat and mutter maintain the moisture and yogurt helps it ferment before you bake it. It cannot be classified as a Gujarati dish until it's seasoned with oil tadaka! You might be tempted to try it without the oil but please don't unless you want to miss the real charm. The oil seasoning with mustard seeds and sesame seeds makes it very special and very Indian.
I used handwa flour I bought at an Indian grocery store. If you want to make it at home, please scroll down I have mentioned the proportions of the dals and rice. Don't use the instant handvo mixtures, they contain lot of citric acid and the taste is nowhere close to an authentic dish.
Handavo / Handwa / Savory Lenti Cake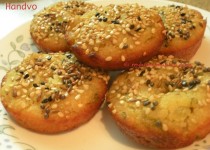 Savory non deep fried lentil cake!
Prep Time: 20 minutes
Cook time: 40 minutes
Yield:

6
Ingredients:
Instructions:
Prepare batter using handvo flour, yogurt, ginger-garlic paste, ajwain seeds, turmeric powder, chopped green chilis, salt and a pinch of sugar. 

Let it sit for 6-7 hours or overnight.
Then add grated doodhi and other vegetables.
Add fruit salt and whisk it in one direction until the batter becomes light.
Pour this batter in loaf pan or muffin pan and bake it at 350 F for 30-35 minutes for a loaf pan and 20-25 minutes for muffin pan.
In a small skillet, prepare tadka with oil, mustard seeds, cumin seeds and sesame seeds. Add this on top and serve it warm.
Notes:
You can more veggies like fresh methi leaves, spinach leaves or zucchini.
For Homemade Handavo Flour soak all these ingredients for 3-4 hours and grind toa fine paste.
1 cup rice

1/4 cup tour dal
1/4 cup chana dal
1/4 cup urad dal
Sending this to Dish it Out event.
I am so happy to let you know that I am hosting Vardhini's Bake Fest event for June 2013. Teh event is open from June 1st till June 30th. Here are some rules –
Send in any recipe which has been baked / broiled.
Only vegetarian or vegan recipes please.But Eggs are okay for baked dishes.
Usage of the logo is mandatory as it helps spread the word.
Linking to original Bake Fest page and this announcement is mandatory.
Leave a comment below.
You can link your old entries if they are reposted with the below links and the logo.
 You can send in any number of new entries and a maximum of 2 old entries.
Looking forward to your innovative creations. Happy baking!