There are some dishes which you never make at home because you always like to have those at restaurants. Dal Makhani was one of these until I had 'the best dal makhani ever' made by S. He was famous for his recipe during his college days and I must admit he did a great job. On a second thought the butter, and more butter, the cream and the masala did a fantastic job. Later, I served him dal makhani made without butter and cream and it was still as fabulous as his version, he looked surprised!
Urad Dal is rich in protein and dietary fibre. It's also a  great source of minerals especially Iron, Magnesium, Manganese, and Copper. It also has good amount of Folate and Vitamin B6.
Black Urad is not commonly used in Maharashtrian cuisine. As the name suggests, its a Punjabi dish and extra cream will make it more "Makhani" like any other Punjabi preparation.
Dal Makhani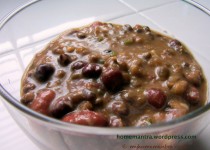 No butter and no cream can still make a delicious dal makhani
Ingredients:
Instructions:
Soak urad dal and kidney beans in water overnight (7-8 hours)
In a pressure cooker, add soaked dal and beans with double amount of water.  Add peppercorns, cinnamon, cloves and a bay leaf to the daal. Let it cook with 5-6 whistles.  You can also add a tea spoon of salt.
Meanwhile, you can keep onion, tomato, ginger and garlic ready and start with the tadka.
In a medium pan, heat some oil. Once it becomes hot, add cumin seeds.
Add chopped garlic and let it turn slightly brown.
Add some chopped cilantro and let it fry for a minute.
Now add chopped onion, and cook them nicely. Sprinkle some salt to quicken the process.
Once onions are cooked 80%, add tomatoes and mix well. It takes another 2 minutes.
Smash tomatoes with spatula.
Reduce the heat and add red chili powder and Dal Makhani masala and stir well. You should be able to smell the aroma of the hot masala.
Next, add cooked dal and rajma along with some water.
Add salt if needed and mix well. Let it boil for 2-3 minutes and your dal is ready to serve.
garnish it with chopped onions while serving.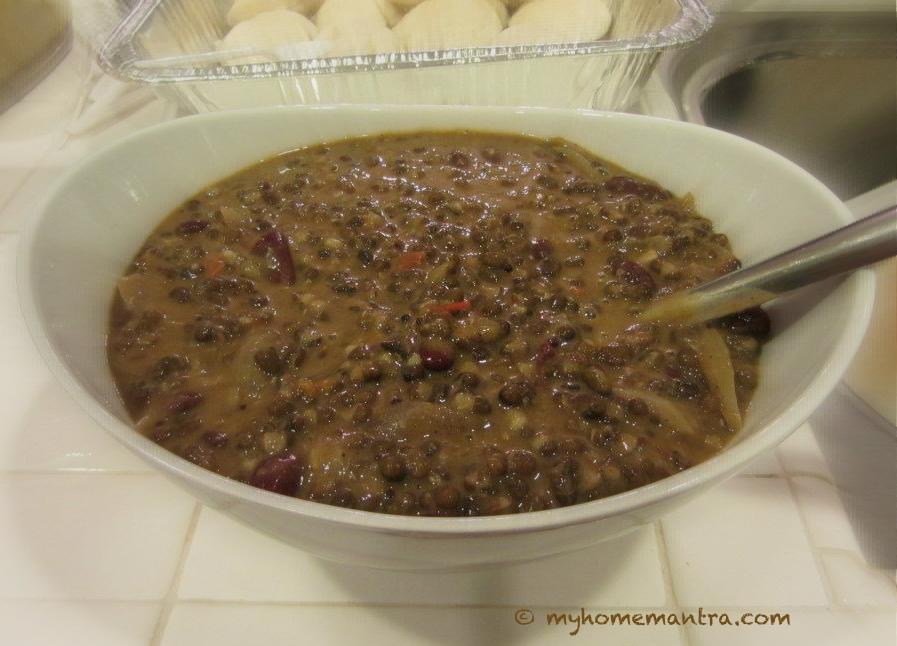 This is going to Vardhini's Dish it Out – Lentils & Garlic event hosted at nivedhanams.