Healthy yummy fasting snack, which is quite a rare combination!
Sweet Potatoes or रताळे (Ratale in Marathi) are in season and I absolutely adore this root vegetable. I am so glad that it's allowed during fasting. Steamed  sweet potato with a pinch of salt and sunth (dried ginger) was my favorite after school snack.
Unfortunately my husband is not a great fan of sweet potato so I don't make it that often but this time I experimented with a basic muthiya recipe and turned it into muthiya that can work during fasting. I used sweet potato with chestnut flour (शिंगाडा पीठ) and rajgira flour, added fresh ginger, lime juice and some cumin powder. The result was yummy healthy snack which I am extremely proud of!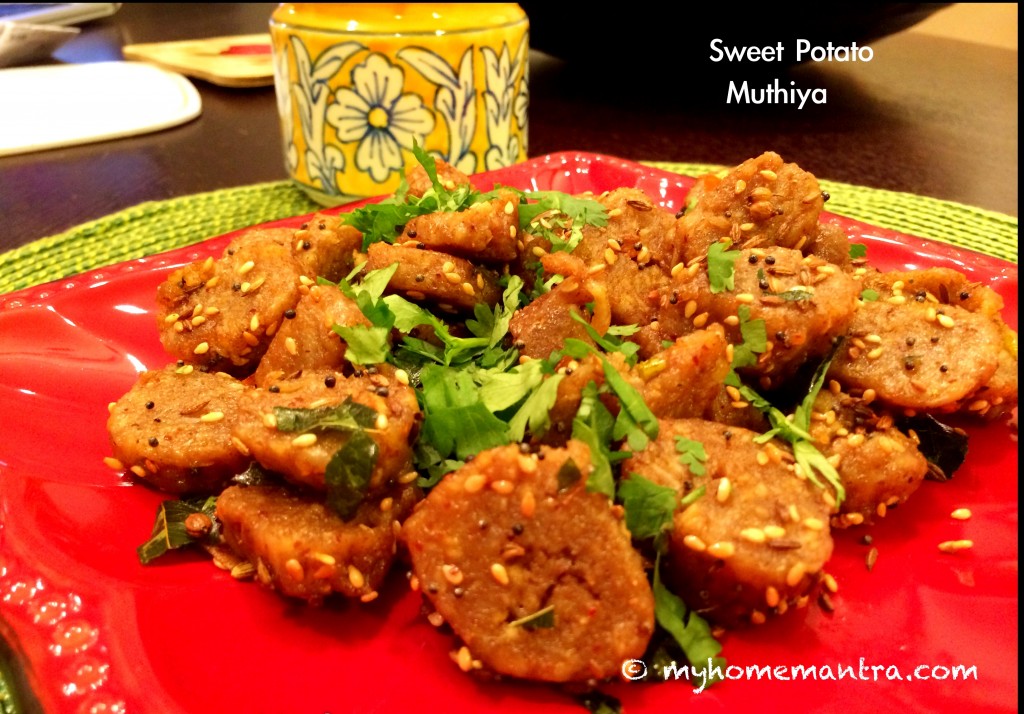 They taste sweetish, tangy, hot with lost of gingery flavor. Singoda and rajgira flavors are very subtle. The seasoning is a must, it takes the dish to a whole new level.
Sweet Potato Muthiya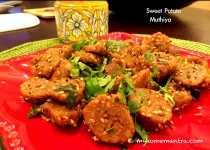 Healthy yummy fasting snack, which is quite a rare combination 🙂
Ingredients:
Instructions:
Start by washing, peeling and grating sweet potatoes.
Add salt, lemon juice, freshly grated ginger, cumin-coriander powder and a bit of jaggery or sugar to grated sweet potatoes and mix well. Let it sit for 10-15 minutes.
Now start adding both the flours 1/3 cup at a time. Mix well to form a dough. You won't need any water as sweet potatoes will leave out all the moisture. Add flour as needed to make not-so-thick dough.
Add green chilies and mix well. Taste it.
Prepare a steamer pan.
Make muthiya - by pressing the dough in your palms to give it a cylindrical shape. Place these in the steamer and let them steam for about 15 minutes. Check with a sharp knife.
Let them cool down a bit, before you slice them.
If you are using these for fast, prepare seasoning with ghee and cumin seeds, else you can add mustard seeds, curry leaves and sesame seeds. Add sliced muthiya and shallow fry them on both side.
Serve hot with your favorite chutney or sauce.