Pav bhaji is my weak point. It tastes best when you have it at a road-side place or not-so-healthy place It was a long time since I made it so when we invited Kandy for dinner, pav bhaji was our first choice. He loved it. This is how I made it.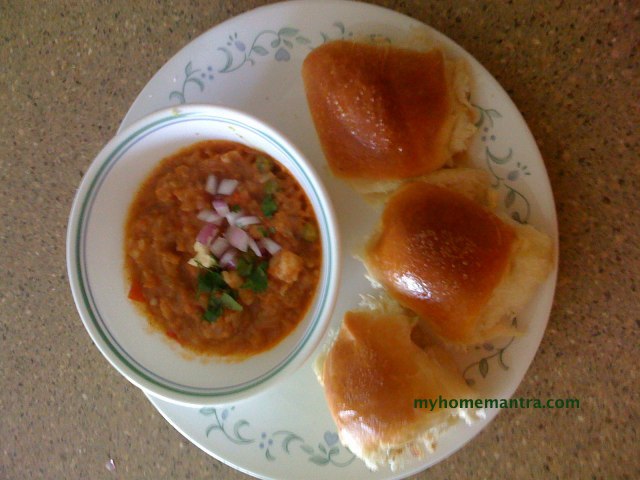 Pav Bhaji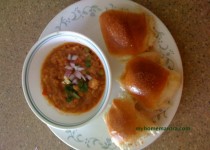 Prep Time: 20 minutes
Cook time: 30 minutes
Yield:

4
Ingredients:
Instructions:
If you are not making khada pav bhaji, roughly chop green pepper, carrots and potatoes. Add these veggies and also cauliflower florets to a pressure cooker with enough water to soak all veggies and let them cook for not more than 3 whistles. Add some salt and whole garam masala to the pressure cooker, if you like.
While that's happening, finely chop onions and tomatoes, and also garlic and grate ginger. Heat oil in a big pan. I like to add some Amul butter with the oil, but feel free to skip this step. Add cumin seeds, don't wait long till you add garlic else cumin seeds start burning. Let the garlic pieces turn brownish and then add onion. Add some salt which helps quicken the frying process. Once onions are done, add tomatoes and let them cook down. Add tomato puree, if you have it.
At this point, you are ready to add the masala. Add red chili powder and half of pav bhaji masala and let that mix nicely with the oil and rest of the ingredients. Don't let it become dry, add some water if needed. And now it's time for all other veggies and green mutter. If you are using frozen mutter, you can add them directly to the pan else you might want to cook them in advance. Drain the water and mash down the veggies using a wooden / steal masher. That's makes that process very easy and add it to the masala. Also add the water you used for cooking the veggies. Now add salt and more masala if you like and let it come to a boil with lid on. Let it simmer for a few minutes and keep the lid on to lock down all flavors.
Now comes the best part, just before serving, heat some butter in a small tadka pan and add some pav bhaji masala and let it fry nicely. The smell is out of the world! Add this masala butter to the bhaji and mix it. That's makes it restaurent style.
Garnish it with chopped onions mixed with finely chopped cilantro and lemon juice! Enjoy with hot toasted pav and be gentle with the butter, just for that day