Qubani is an Urdu word for Apricots. And this dessert – Qubani Ka Meetha which itself translates to stewed Apricot dessert is a specialty of Hyderabad. It was the challenge posed by Roha from Hyderabadi Cuisine as part of  SNC ( South Vs North Challenge), which as you might know is a brainchild of Divya from YouTooCanCook, you can read about it more here.
When I first saw this in my inbox I was almost jumping with joy. Apricots are one of my favorite fruits. What I like about apricot is its distinct aromatic flavor. Currently farmer's markets in the US are boasting California's "spring gold" – the fresh Apricots. Its velvety golden skin, sweet-tart taste and the fragrance makes it unique.
Thanks to Roha, we now have an unbelievably quick recipe to enjoy apricots. No wonder the dessert is very common in  Hyderabadi weddings. It's really really simple yet elegant. They generally use dried apricots as fresh apricots are seasonal and they are not native to India. It's served with cream or custard or ice-cream on top which is completely missing from my plate this time but I have promised myself to do a complete justice to this delicious dessert next time!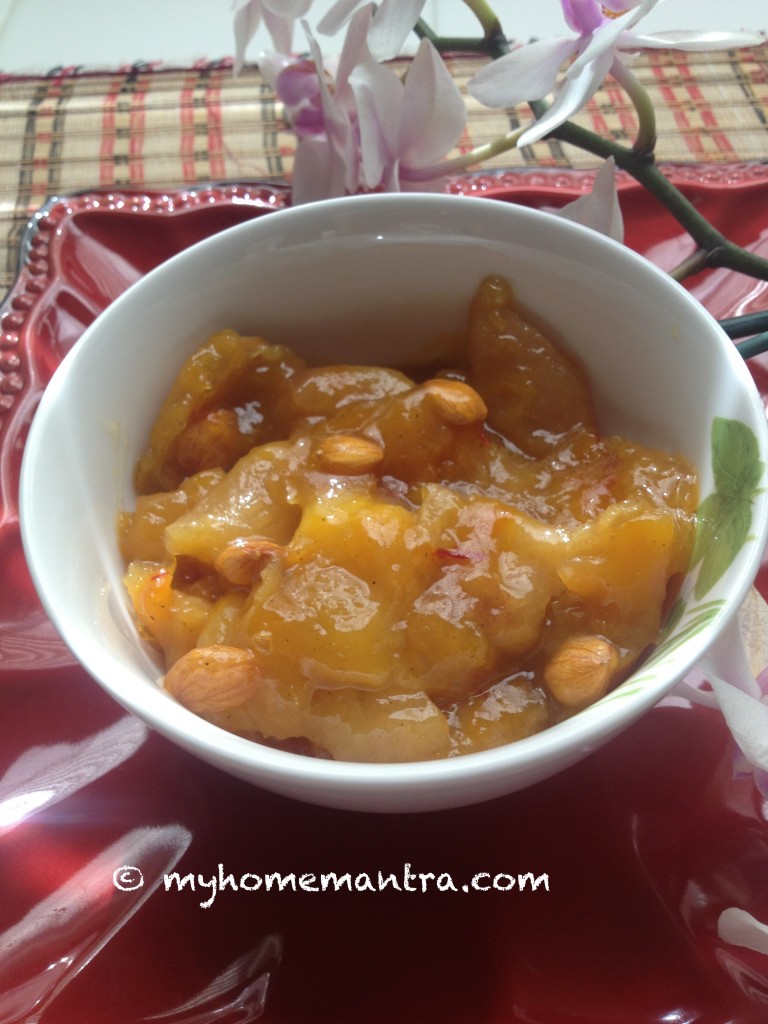 Qubani Ka meetha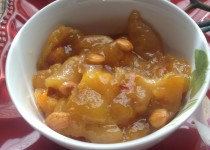 Simplest Apricot dessert you have ever known!
Prep Time: 10 minutes
Cook time: 15 minutes
Yield:

1 or 2
Ingredients:
Instructions:
In a deep bowl, add washed apricots and cover them with water. Soak them overnight. (up to 4-5 hours)

Apricots will become softer and will absorb the water. Take out the apricots and  keep the soaking liquid aside, it contains the apricot flavor.
Now remove the seeds carefully and crack them open to get the apricot kernel, these will be used as garnish.
In a non-stick saucepan, add soaking liquid, the apricots and some sugar. Let it cook on medium heat for 10-12 minutes until it turns golden brown. You can also add a few drops of lemon juice.
Taste and add more sugar if you like, while it's still cooking. I also added some Apricot kernels so that they also cook little bit.
You can also blanch the Apricot kernels and remove their skin. I skipped this step.
Feel free to add some water or milk if the mixture looks very dry. It should be pulpy and mushy.
When almost done, add few strands of saffron and cardamom powder.
Let it cool down,
Serve it cold with your favorite ice cream scoop or fresh cream, topped with pistachios slices.