Comforting to eat, Effortless to make
I will describe Khichadi in word one – Soul-food! It's so comforting, fulfilling and satisfying. This was the first recipe I learned from my mom when I first started my job in Bangalore. It's a '++' version of  वरण भात 'Varan-bhaat'  (dal-rice) but it's actually easier to prepare than dal-rice.
The best part I like about Khichadi is it's a one pot meal. All you do is mix all ingredients together in pressure cooker, then wait for few minutes and dig in! Well khichadi literally means a mixture. The rice in it adds the starch, which somewhat magically means comfort in any language, and the moong dal adds a good source of protein which is easy to digest.
It is also a dish that is found throughout the country in some form or the other – khichdi, khichri, khichuri, venn pongal, even kedgeree, which was adopted by the colonials, are all variations on the same theme. Like names there are different khichdis too. I like it soft, almost mushy and watery, but some prefer it like pulao, all grains intact.
My mom makes a milder version with no garam masala –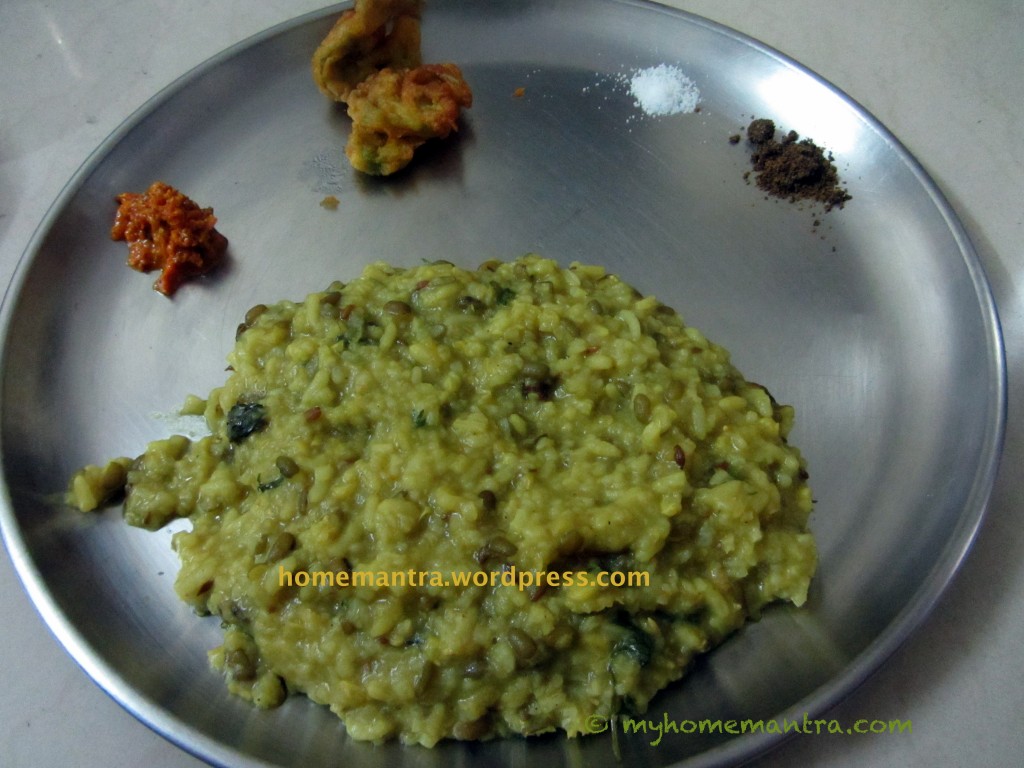 I generally make a spiced khichadi with whole garam masala and green peas.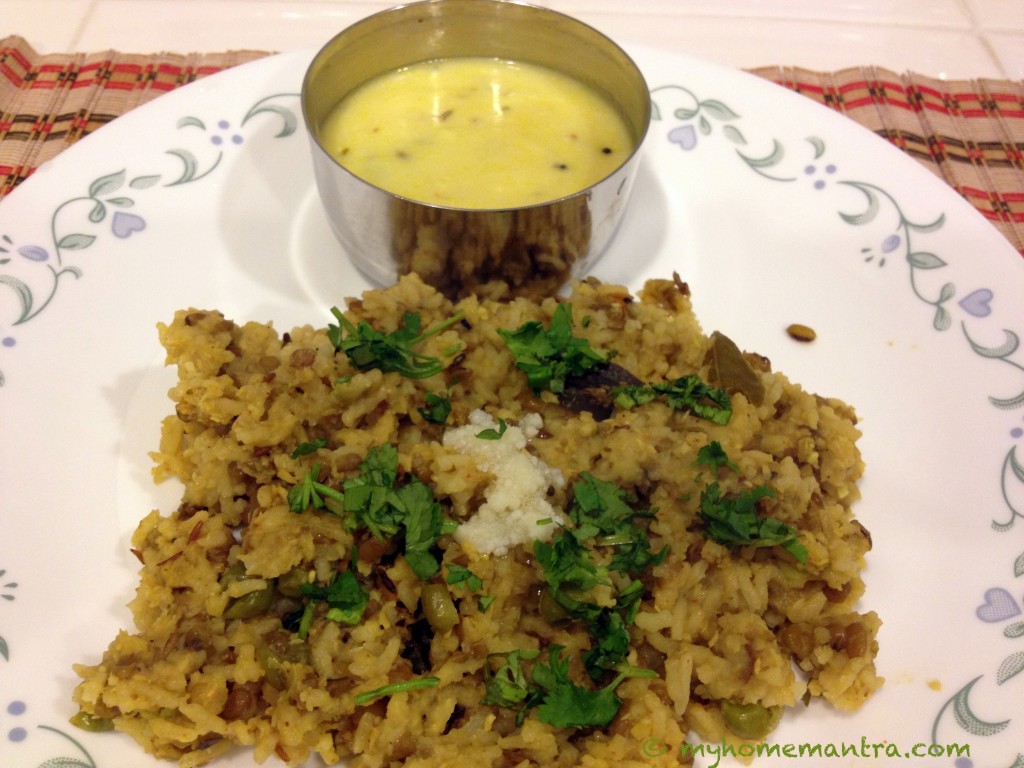 The general rule is to use 2 parts rice and 1 part moong dal but I use both in equal proportions. You can use split moong dal which is green or yellow. Here is my version –
मूगा-तांदुळाची खिचडी Moong Dal Khichadi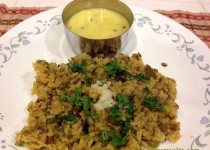 Comforting to eat, Effortless to make!
Prep Time: 10 minutes
Cook time: 15 minutes
Yield:

3-4
Ingredients:
Instructions:
Wash and soak the rice and the dal in water for about half an hour. If you don't have time skip this step. 

If you have time use a large wide and heavy bottom pan to prepare khichadi. Or you can also use a pressure cooker and make it quicker.
Either ways, in a pan, heat the oil and add whole garam masala (clove, cinnamon, peppercorns and cardamom). Also mustard seeds.
When they start to pop add cumin seeds, curry leaves, hing and turmeric.
Drain all the water from the grains and add them to the oil. Mix well for a minute.
Now add goda masala and red chili powder and mix well.
If you want add green peas or any other vegetables and mix again.
Add 4 cups of water and stir everything together.
Add grated coconut.
Add salt and taste it.
Now let it cook on medium heat for 3 whistles.  If you skip the first step, you might want to wait for 4-5 whistles depending upon your cooker.
If you are making it a wide pan, let the water come to a boil and then simmer for few minutes. Stir it occasionally. But keep a lid on it by leaving a small gap for the steam to escape.
Serve it hot with ghee and chopped cilantro.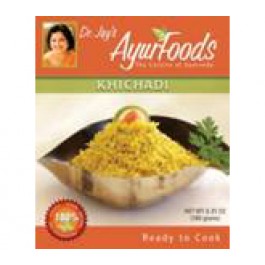 If you still think this is not easy to prepare, there is an instant version too. I recently came across AyurFoods and I have tried their moong dal khichadi. It was as delicious as home made. It's nicely packaged and can be a good healthy meal while travelling.