तीळ गूळ घ्या गोड गोड बोला!
Makar Sankranti, marks the transition (Sankraman) of the Sun into Capricorn (Makar) rashi on its celestial path. Traditionally this has been one of many harvest seasons in India and being agriculture based community, harvest season and festivals always go hand in hand. Known by different names, it's celebrated all over India.
In Maharashtra, we celebrate it by exchanging til-gul laddoo and halwa as token of goodwill and we fondly say "तीळ गूळ घ्या गोड गोड बोला" which means "Savor this sweet Til-Gul and may the sweetness fill your thoughts and speech". The Til-Gul literally translates to Sesame Seeds and Jaggery. The laddoos or wadis made with jaggery, sesame seeds, peanuts and coconut  not only taste good but also provide the essential oils needed in cold, dry winter days.
Even though I have made tilgul at home, Makar Sankranti doesn't seem the same anymore. It's just not in the air. In my school, everyone would get tilgul and halwa from home and there would be so much variety with these simple ingredients – different shapes, sizes, softness. But I always thought my mom makes the best tilgul; soft, easy to bite which melts in your mouth.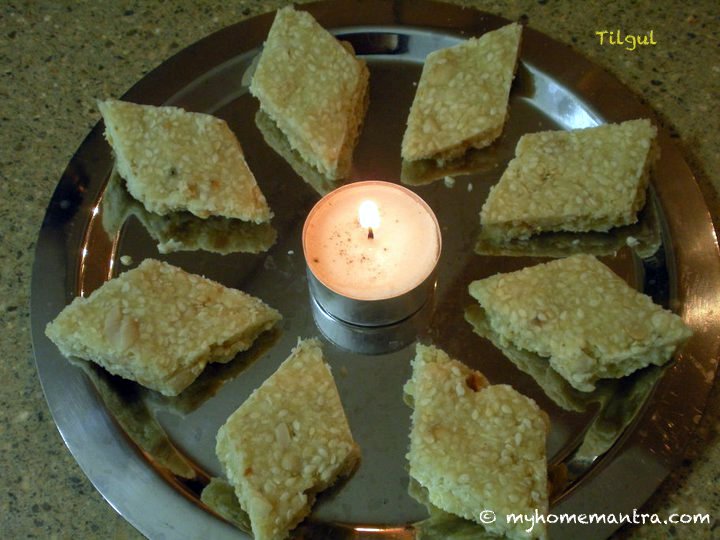 The other best part of Sankranti was Puranpoli and that makes me really nostalgic. For now here is the recipe for TilGul
Til Gul / Tilachya Wadya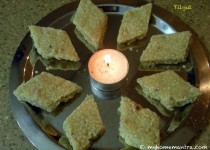 Sesame Seeds, peanuts, coconut and jaggery. You can't go wrong with these.
Ingredients:
Instructions:
Roast all sesame seeds in a deep bottom skillet or kadhai, till they start changing their color. Do not get them too brown.

Similarly, roast the peanuts. And grind them, but not into a fine powder. Crunchy pieces always taste better.
Also roast the shredded dry coconut slightly. It takes almost no time if the skillet it already hot.
When sesame seeds are cool enough to handle, grind them.
In a saucepan or kadhai, take 1-2 table spoons of Ghee and add jaggery. Let it melt completely. Reduce the heat.
Now add ground sesame seeds, peanuts and coconut and mix well until everything comes together.
Grease a big plat with some Ghee and spread the mixture onto the plate evenly.
While it's still hot, mark the lines with a sharp knife and let it cool down.
Separate the wadis when completely cooled down.
Notes
If you want to make hard wadis like Chikki, use the special Chikki Jaggery. Also when it melts, put a drop of melted jaggery in a cup of cold water, if it forms a firm ball the jaggery syrup is done. This will make hard candies.

You can also substitute jaggery with sugar but it does not taste the same.
Wish you all a wonderful Makar Sankranti and may it bring warmth and lots of happiness in your life!
[Update] A healthy snack that can be packed and stored for a while, sending it to Kid's Delight – Back to Hostel special event started by Srivalli