Tadka,  Phodani,  bhagar,  vaghar, chaunk or tempering or seasoning, we may call it by different names but we all agree that it's one of the greatest inventions of Indian Cooking! A method that's widely used in Indian Cooking and the only ubiquitous ingredient in many of our traditional dishes from North to South and East to West.
A simple method in which whole or ground spices – such as  mustard seeds, cumin and coriander with some hing and turmeric are added to hot oil or ghee. The heated oil or ghee has amazing qualities of extracting and retaining vital nutrients from the added ingredients, the same technique being used since ages for making Ayurvedic oils and medicated ghees.
The hot oil or ghee infused with the aromas of whole spices is so magical that it can elevate any basic ingredient, including as humble as a leftover roti or poli in Marathi. And what you get is a popular Maharashtrian dish; extremely tasty, super easy and a perfect healthy breakfast item that pairs nicely with a cup of chai or bowlful of fresh yogurt.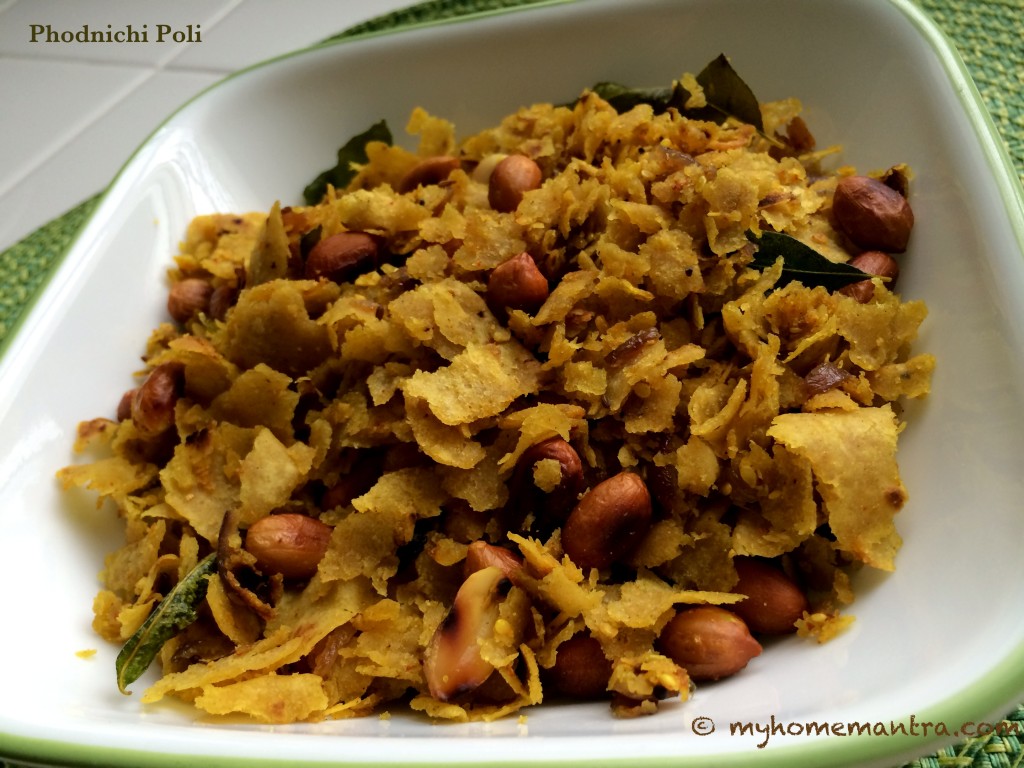 It tastes best with leftover rotis as they tend to absorb oil more easily due to their extra dryness. A simple tadka with standard ingredients and curry leaves with some characteristic Maharashtrian ingredients such as peanuts and dry coconut flakes and sesame seeds, the dish provides enough oil to digest the dry rotis with extra yum factor! The peanuts can be substituted by fresh green peas, they add a hint of sweetness and a beautiful green color. But I prefer the nuttiness of roasted peanuts.
Phodnichi Poli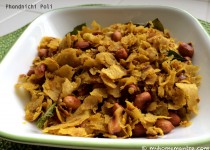 A magical makeover for leftover rotis - takes no more than 15 minutes. Quick, tasty, easy and healthy - perfect for breakfast!
Prep Time: 5 minutes
Cook time: 10 minutes
Yield:

2
Ingredients:
Instructions:
Grind all rotis coarsely. It's best done with your hands.
In a medium pan, prepare tadka by adding all ingredients listed under tadka in the given order.
Add finely chopped onion and fry it until it becomes translucent.
Add roasted peanuts or green peas and let them fry for a minute.
Add red chili powder, cumin-corainder powder (optional) dry coconut flakes, and salt. Mix well.
Now add roti flakes, mix everything together and let it steam for 2 minutes.
Add sugar and lemon juice and again steam it for another 2 minutes.
Serve hot! Garnish with fine shev or chopped coriander leaves.