Comfort, redefined!
There are times when we eat to find a feeling beyond fullness. We eat looking for a feeling of joy, a momentary salve for sore spirits, a feeling of goodness. At times like these, we usually turn to what we call "comfort food". वरण भात (Varan Bhaat), rice and dal in its simplest cooked form rates high on my list of "comfort foods". Then comes the khichadi and my all time favorite –  थालीपीठ (Thalipeeth) with metkut and yogurt!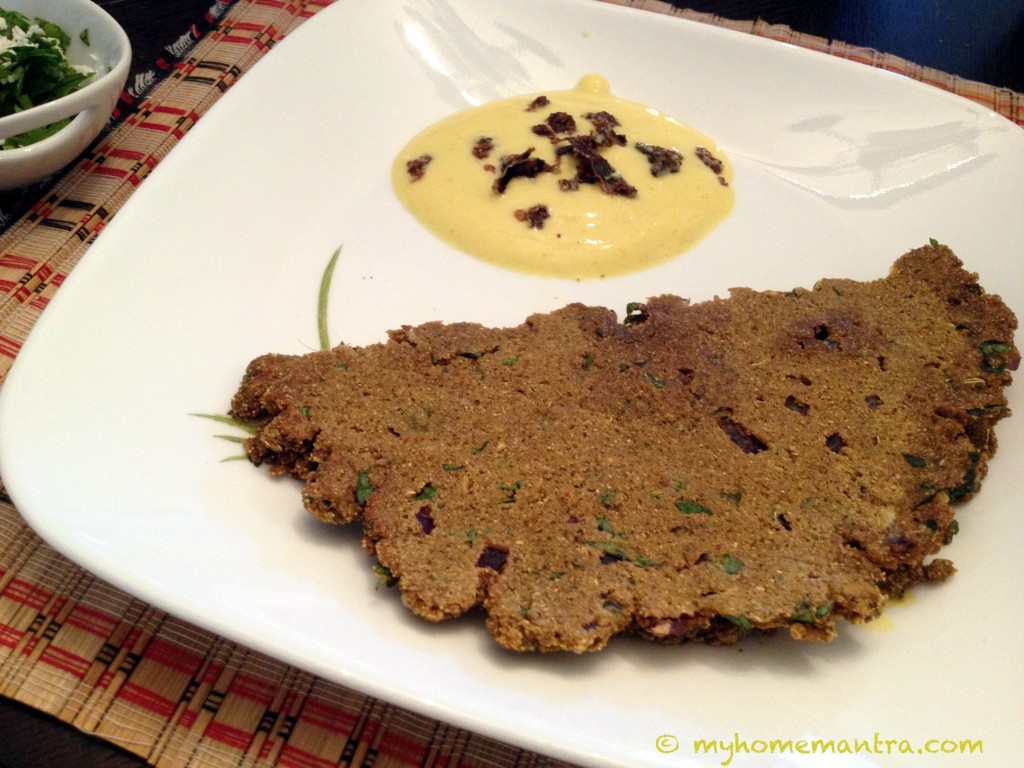 It's a very common and very typical Maharashtrian recipe and it's speciality is that it's a perfect menu for morning, noon or night. It's made with a flour mixture which is called भाजणी or Bhajani. It's actually a grounded mixture of whole grains like whole wheat, rice, jowar, bajra, urad dal, chana dal and cumin and coriander seeds. "Bhajane" in Marathi translates to dry roast in English. The whole grains are first dry roasted in a pan and hence the name – "bhajani" and then are ground together to form fine flour which can be stored for months. You can think of it as an instant mix.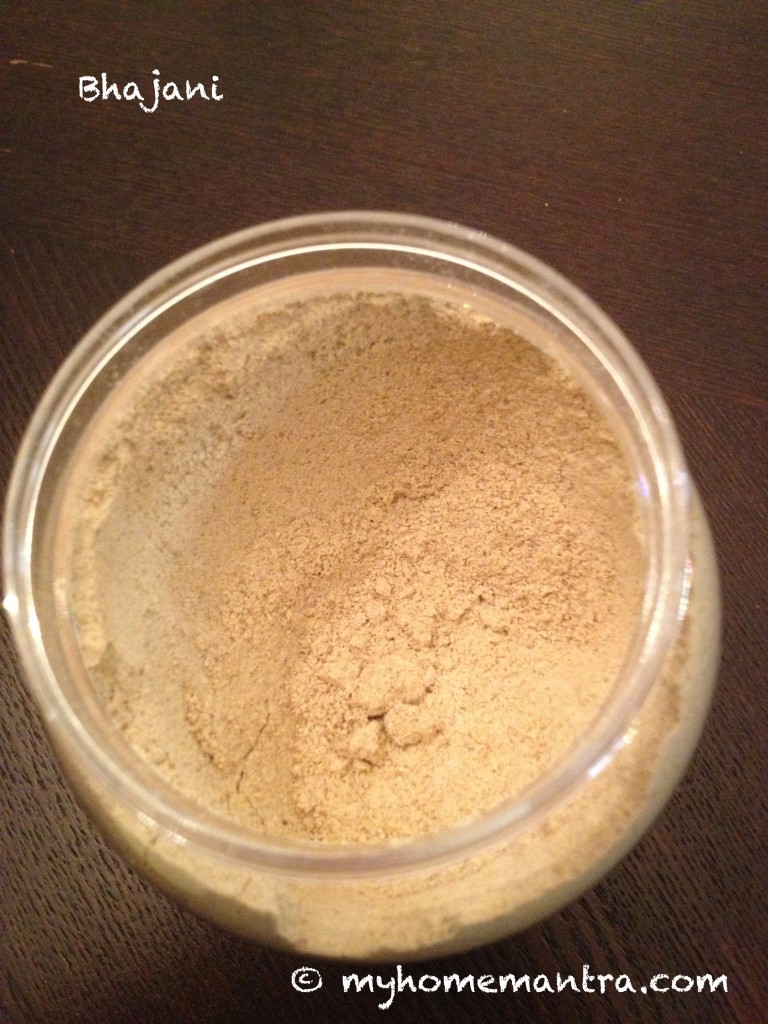 It takes less than 10 minutes to make actual thalipeeth if you have the mix ready.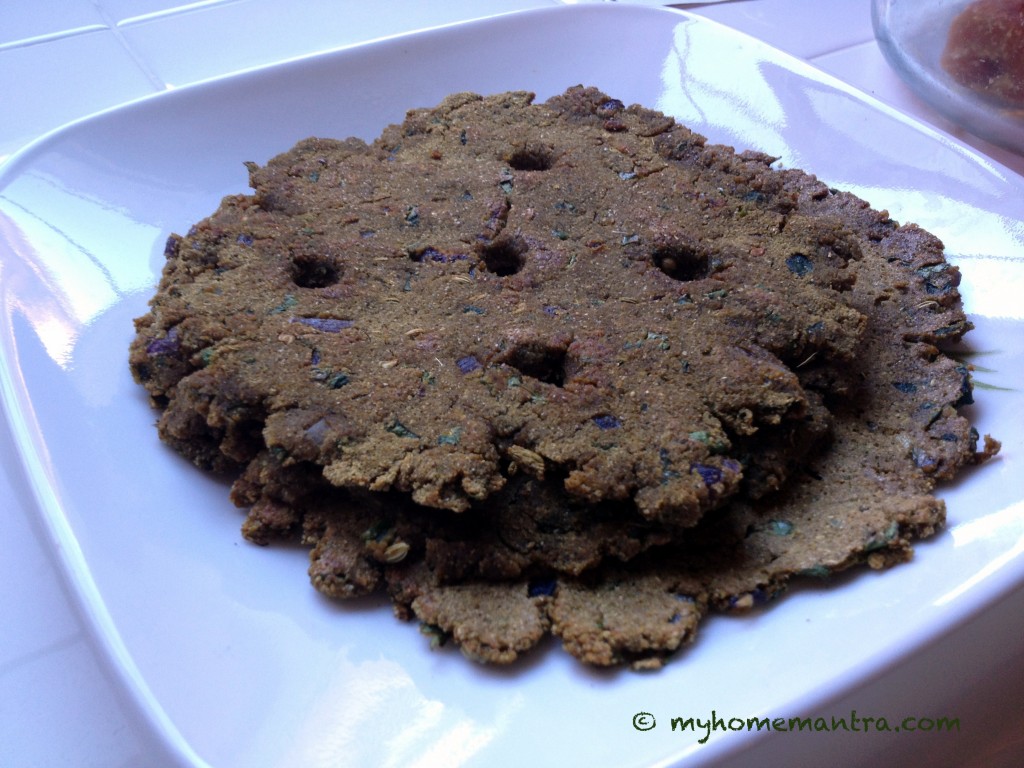 Bhajaniche Thalipeeth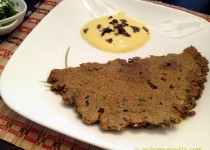 Hearty pancakes, super quick and super healthy, loaded with healthy carbs and fibre!
Prep Time: 10 minutes
Cook time: 15 minutes
Yield:

4
Ingredients:
Instructions:
If your bhajani mix contains salt and red chili powder, feel free to adjust the amounts accordingly. Ajwain seeds, fennel seeds and sesame seeds are totally optional but they do add more flavor to every bite. Cilantro and onion help make thalipeeth moist but they are optional too. And same is the case with ginger-galric-chili paste., it's for added flavor. If your bhajani doesn't contain cumin and coriander seeds, you can add 1 table spoon of cumin-coriander powder.
Now the more interesting part - It's just 4 step process - mix everything, put it on a pan, cook and eat with butter! I am getting too excited, I know!
Finely chop your onion and cilantro.

In a medium bowl, mix everything together except for oil and water.
Mix in water gradually to form a firm dough. Taste it and adjust salt to your taste.
Use a little bit oil to knead the dough and mix it together. No real kneading is needed.
Heat a tawa / flat skillet on a medium heat.
Take handful of dough and press it down with your fingers to to roll it out like a pancake, around 1/2 inch thick. Be careful with your hand if the skillet is hot.
If it feels sticky, use some water.
Make three to four holes in it and add few drops of oil in each hole. Also add a few drop surrounding the thalipeeth.
Cover it with a lid and let it cook for 5-6 minutes until you hear crackling sound.
Turn it over and let it cook again for 3-4 minutes.
Wipe the skillet with a wet towel before making the next one.
Serve it hot with yogurt and pickle or chutney. By the way, homemade butter is a must!
I like it with metkut mixed with yogurt and topped with talnachi mirchi! Yum!

This is my entry to Jagruti's Pancake Day celebration.