Hearty and Healthy twist to traditional pancakes
Imaging a light fluffy pancake topped with butter, maple syrup, whipped cream and fresh berries…. Yum! Pancakes are great for breakfast pleasures but they are not healthy! Today I decided to transform this classic American breakfast into a savory, healthy dish with Indian touch.
I used multi-grain flour instead of all purpose flour. I substituted sugar with salt and red chili powder, stirred in lots of  veggies like finely chopped spinach, cilantro, tomatoes and red onions with some coriander-cumin powder together with fennel seeds and ajwain seeds for an extra kick. The result? Outstandingly tasty and healthy pancakes – made from scratch!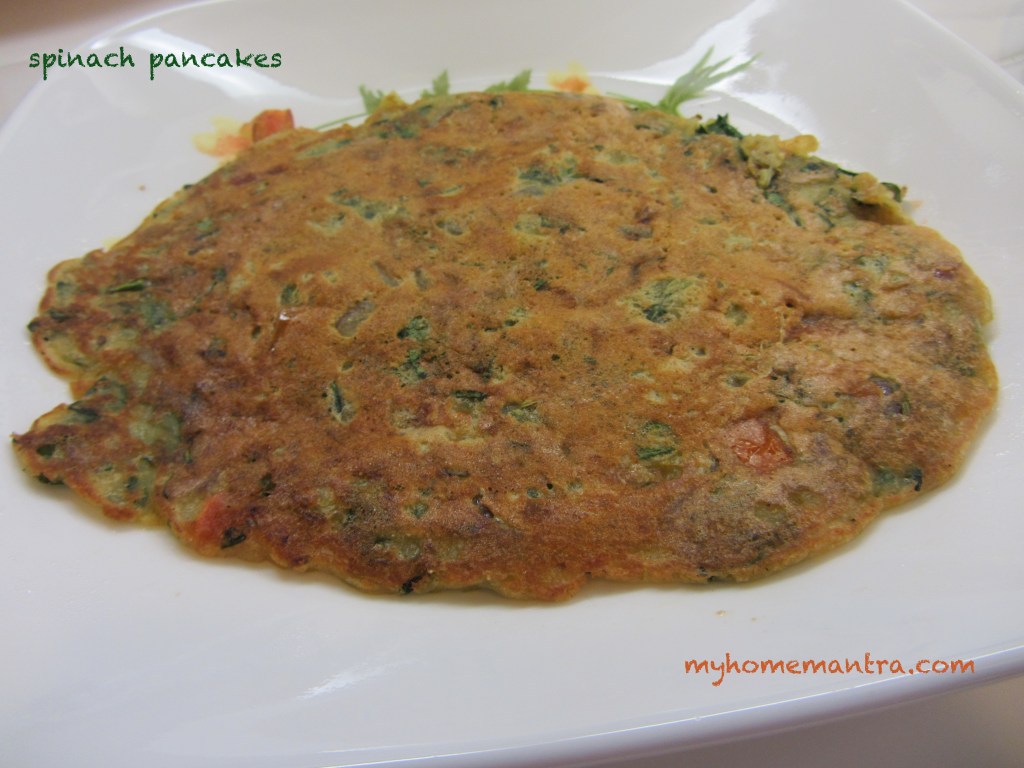 Spinach Pancakes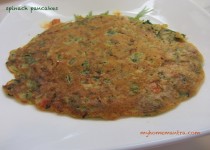 Hearty and Healthy twist to traditional pancakes
Prep Time: 15 minutes
Cook time: 10 minutes
Yield:

4
Ingredients:
Method
You can buy multi grain flour in Indian stores or Whole Foods Market in bulk section. Whole wheat flour works too.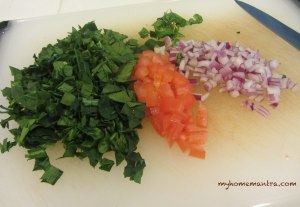 Finely chop spinach leaves, a tomato and about a half medium red onion.
Mix all dry ingredients in a large mixing bowl. Whisk an egg in a separate bowl and add it to the dry ingredients. Next goes milk. Whisk until smooth batter forms. Then stir in all veggies. The batter should be spoonable but not pourable. Adjust the consistency by adding either spoonful of water or flour as needed.
Heat a skillet over medium-high flame, add little oil or use non-stick oil spray.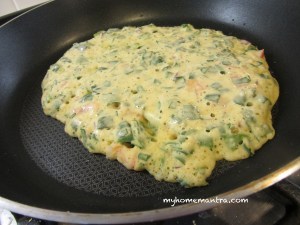 Place a ladle full of batter on the skillet and spread it into a pancake. Cook until the wet side of pancake bubbles. Flip and cook the other side for another 2-3 minutes until brown.
These savory pancakes are packed with flavor, good amount of Iron, Calcium, Vitamin A and fibre.
Sending this to Kiran's "Cooking with Whole Foods – Spinach" event hosted at cook's joy.
HITS – Iron rich foods started by Sangee.
And to "Healthy Diet – Breakfast" by Priya's Versatile Recipes hosted at Roshni's Kitchen.