Paradise Hotel, a landmark on Sardar Patel Road in Secunderabad which is so hard to miss. A crowded road with equally crowded biryani house which has been serving thousands of people day and night since 1953. I still clearly remember,  6 years back when I first visited Hyderabad; lunch at Paradise was ranking very high on our must-to-do list. Their signature biryani was truly succulent, flavorful and aromatic! It was a delicious experience.
When I first came across the recipe for Hyderabadi Birynai at Swasthi's Indian Healthy Recipes, I knew I didn't want to miss this opportunity to cherish my experience in my own kitchen. And the reason I came across this wonderful recipe is SNC – South Vs North Challenge started by Divya Pramil. She is a versatile cook and blogs at Youtoocancookindianfood.blogspot.com. Divya has created two groups – Southern Group and Northern Group as you can guess you become part  of a group based on the region you belong to in India. I liked the idea and it's quite unique. This is my first time participating in SNC and I am so excited about it.
I will be part of Northern Group. You can read more about the challenge on Divya's blog. Being from Maharashtra, I feel this is a great opportunity for me to learn both South Indian and North Indian dishes.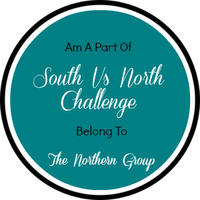 So here it comes, my vegetable biryani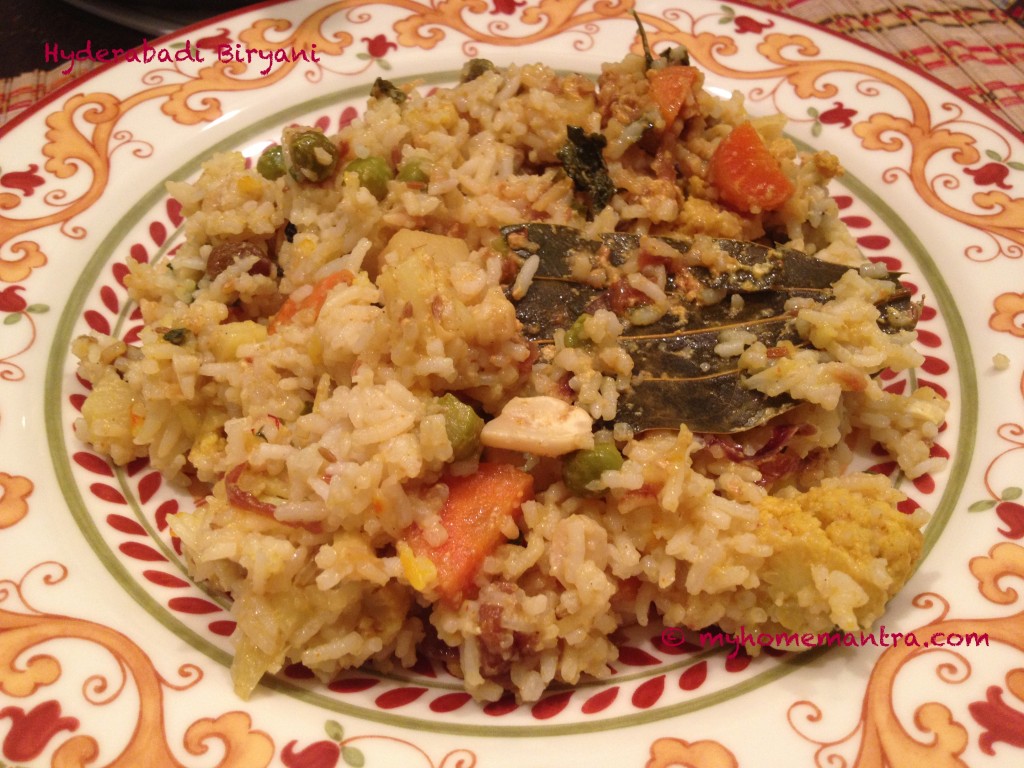 It's easy to prepare but has multiple steps and if it's your first time it will take little longer. My rice was cooked little longer  but the flavors and the taste was quite up to my expectation.
Here's what you need.
Hyderabadi Vegetable Biryani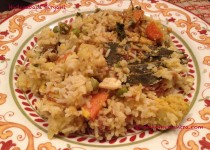 One pot meal with simple ingredients yet exotic flavors
Prep Time: 30 minutes
Cook time: 30 minutes
Ingredients:
Instructions:
Take a deep breath. It's a long list of ingredients and an equally long list of steps, quite daunting when you read it first time. Stay with me and it will be done in 45 minutes!
Wash rice grains and soak them in cold water before starting with other preparation.
Keep all vegetables ready by washing them and chopping as desired. I used some asparagus but that's optional.
Next thing is to prepare the vegetable masala. In a medium pan, heat 2 tbspn of oil or Ghee and add all whole spices (bay leaf, cinnamon, cardamom, cloves, shahee jeera, star anis) and let them roast for a minute or so until you can smell their distinct aromas.
Now add ginder garlic paste and green chilis.
Add diced potatoes and  saute them for a 1-2 minutes.
Now add all other vegetables and mix them.
Add biryani  masala, red chili powder and sail and mix well.
Now add 1/2 cup yogurt, mix everything and let it cook for 5 minutes. keep a lid on so that it cooks faster with the steam.
We want the dry masala so cook it uncovered for another 3-4 minutes until all the moisture goes out. Add some chopped mint leaves and cilantro leaves and keep it aside.
Heat 1/4 cup milk and add saffron to it. Keep it ready.
In a small kadhai or pan, add 4 tbsp of oil and fry the onion slices until they turn dark brown. It takes around 10 minutes.
In another bigger pan, add 4 cups of water and the soaked rice. Add a tsp of Ghee or oil, some salt and cumin seeds. Let it simmer for a while until the rice is 3/4th done. This is important as we are going to cook the rice again so make sure it's not well done.
As soon as rice is ready, place a tawa on a low flame and a big steal pan or cooker on the tawa. You may call it as a modern way of cooking "dum" biryani.
Add half of the vegetable masala cooked earlier, add some yogurt and some fried onions. Then add some rice. Make two such layers. On top add cashews, raisins and fried onions and chopped cilantro leaves.
Pour the saffron milk on top.
Now you have two options, you can seal the top with wheat dough or you can use a thick towel with a heavy lid on top it. I used the latter option.
Let the rice cook for another 10 minutes on medium flame and then switch of the heat and let it sit for another 5 minutes.
Serve it hot with raita.
Notes
It's very important to keep everything ready when your rice is about to be done else it will cook more than what you want and the grains will not remain separated. I did this mistake and my rice was little overcooked. So plan it ahead.