Tofu and I share a strange relation. Whenever I see it in a store I feel inspired to use it in some recipe interesting recipe and a thought of having protein rich food encourage me to buy a packet but then it sits in my refrigerator until I start reminding myself to use in a recipe and finally it ends up in some Thai Curry with other vegetables.
When my friends came over for coffee (without any prior notice) I had noting to offer except for coffee. It was pouring outside and I was thinking of batata wada but deep frying and again cleaning that mess was too much of work … When I saw tofu in the fridge it reminded me of this super simple recipe I had seen on my favorite show. This was enough reason to try it out.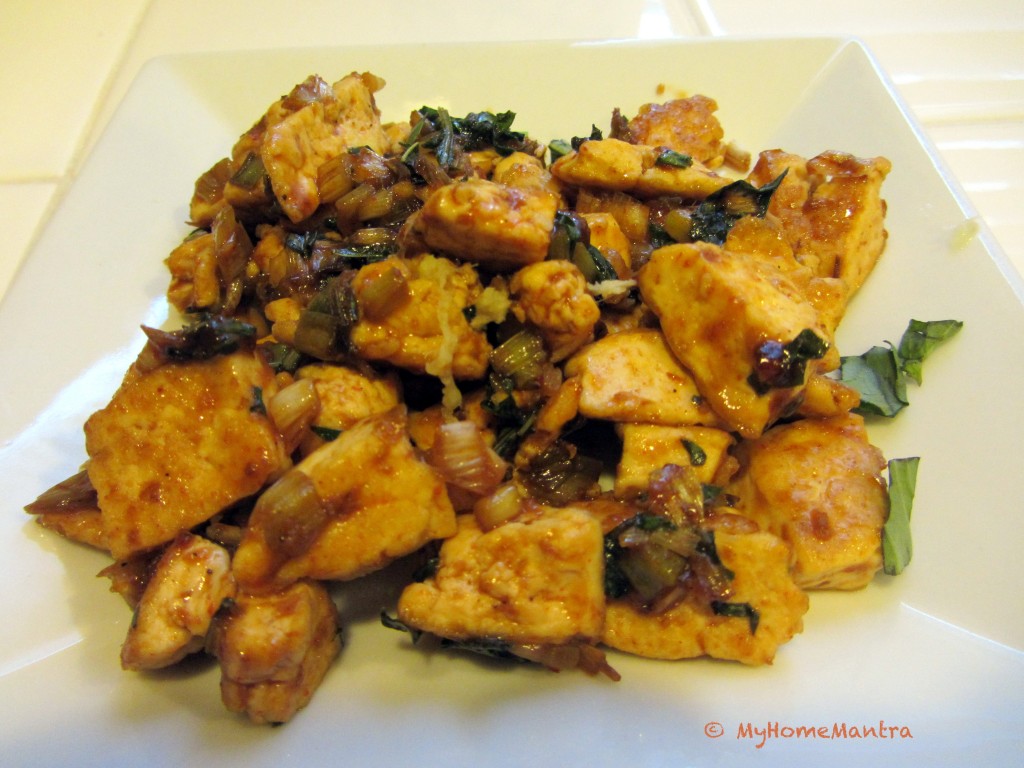 The original recipe makes dry stir fry with just some seasoning and no vegetables,I changed it to add some basil leaves and more sauce.
Tofu Stir-Fry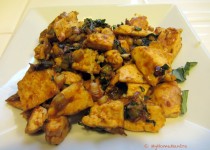 Super quick recipe to enjoy the amazing benefits of Soy!
Ingredients:
Instructions:
Drain liquid from Tofu package, cut it into larger pieces and press out excess liquid.
Cut it into bite sized pieces.
In a non-stick skillet, heat some oil.
Add finely chopped garlic and green chilis. (Is you are using Chili sauce skip green chilis). Also add onions.
Add a pinch of salt and stir fry it for 15-20 seconds on medium heat. Make sure that garlic doesn't burn.
Add cut tofu and stir fry again for a minute or so.
Now add soy sauce and tomato chili sauce, sugar and black pepper. Toss it for a minute and allow it to thicken and coat tofu pieces.
Add basil leaves and if seasoning is fine, take it out.
Serve it hot.
Tips
Strain out the liquid completely.
If you have time, pound garlic, green chilis and spring onions together with a pinch of salt and use it as a sauce.
Deep frying tofu will add extra depth.